Sheriff: Okla. reserve cop's training record wasn't falsified
Sheriff also said the FBI had determined Robert Bates didn't violate suspect's civil rights
---
By Justin Juozapavicius 
Associated Press
TULSA, Okla. — The Tulsa County sheriff said Monday he doesn't believe training records were falsified in connection to a volunteer deputy who fatally shot a man after mistaking his handgun for a stun gun.
Sheriff Stanley Glanz said the volunteer, 73-year-old insurance executive Robert Bates, was properly trained. But the sheriff stopped short of saying Bates was qualified to use the gun he used when he killed Eric Harris earlier this month.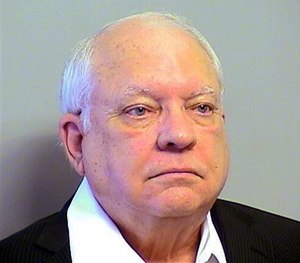 Bates is charged with second-degree manslaughter in the death of Eric Harris, who was shot after running from officers during a sting investigation.
"Mr. Bates has been to the range several times and is qualified, and that is documented," the sheriff said during a news conference, adding that Bates had been his insurance agent and they'd known each other for about 25 years.
When asked if Bates was trained on the specific gun he fired at Harris, Glanz said: "That is something we're still looking at and it will be part of the administrative review."
Harris' family has questioned whether Bates was adequately trained. The Tulsa World newspaper, citing unnamed sources, has reported that some of Bates' supervisors were told to certify him after he failed to meet some qualifications. Bates disputes those claims.
His defense attorneys released some of his training records over the weekend, including certificates showing what training Bates received, job evaluation reports and weapons training and qualification records dating to 2008.
Glanz also said Monday that action will be taken against two deputies at the scene, including one caught on video cursing at Harris as he lay dying. The sheriff said both have received threats and have been reassigned for their own safety.
"Through our administrative process we will review what those officers did and will take some administrative action," the sheriff said, but didn't provide specifics.
He said nine officers were involved with the sting, and that two officers had pinned down Bates when the shot was fired.
The sheriff also said the FBI had determined Bates didn't violate Harris' civil rights. The agency didn't immediately return a call seeking comment from The Associated Press.
Copyright 2015 The Associated Press