Details emerge in killing of NY officer
Officer Daryl Pierson had pursued and caught Thomas Johnson III when he was hit by a .25-caliber bullet
---
By Carolyn Thompson
Associated Press
ROCHESTER, N.Y. — The first member of Rochester's police force to die in the line of duty since 1959 was killed with a single shot fired by a man wanted for a parole violation who fled from a traffic stop, authorities said Thursday.
Officer Daryl Pierson, 32, had chased and caught Thomas Johnson III when he was hit by the .25-caliber bullet, officials said.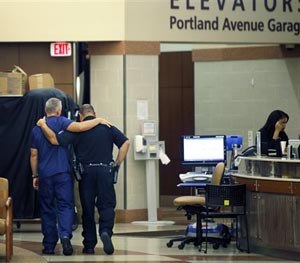 Monroe County District Attorney Sandra Dorley said Johnson was hospitalized after being shot by Pierson's partner. He is expected to survive and was facing arraignment on charges of aggravated murder, attempted aggravated murder, three counts of assault, and three counts of criminal possession of a weapon. He didn't have a lawyer Thursday afternoon, but is expected to be represented by the county public defender's office.
Police Chief Michael Ciminelli said Pierson and his partner, Michael DiPaola, were on patrol just after 9 p.m. Wednesday when a man escaped a vehicle they were stopping. A few minutes later, they saw the man and Pierson got out to pursue him on foot.
Ciminelli said Johnson fired as Pierson caught up to him, both men fell to the ground and Johnson's handgun went off again, slightly wounding a bystander.
As Johnson got up to run, DiPaola took up the chase and fired a single shot that hit Johnson, who had turned to fire at him, the chief said.
"Officer Pierson never had the opportunity to draw his weapon and didn't fire a shot," Ciminelli said.
Pierson died at a hospital where Johnson later underwent surgery and bystander Jamal Bollar was treated for a leg wound.
Pierson was an eight-year police veteran who had served with the Army National Guard in Afghanistan. He is survived by his wife, Amy, and two young children.
Bollar, 23, said he was shot in front of his house. Leaning on a crutch Thursday, he said doctors left the bullet in his thigh because it was too risky to remove it.
"I was out in front of my house taking the dog out and the next thing you know, shots were fired," said Bollar, who was with his 2-year-old daughter on the porch. "As a father, my first reaction was to get her in the house."
Bollar said when he heard the shots his leg began hurting, but he didn't realize he had been shot.
"I was standing by the sofa and was feeling pain in my leg. My shirt was wet. I pulled it up and there was blood." His uncle, Gregory Bollar, ran outside and told police his nephew had been shot.
The uncle said he saw DiPaola with the suspect on the ground and Pierson lying nearby.
"The officer remained professional. He did his job," Bollar said. "He was a lot more merciful than I would have been."
"It's crazy. The whole situation went sideways so fast," he said.
State officials said Johnson had been released from prison Aug. 11 after doing time for a parole violation stemming from his previous imprisonment for an attempted robbery conviction. He initially went to state prison in April 2011 and was released in May 2013, according to state records. He failed to make an Aug. 19 meeting with a parole officer and a warrant for his arrest was issued on Aug. 27, officials said.
Rochester Mayor Lovely A. Warren asked the community to keep the officer's family in their prayers.
"Words simply cannot express the sense of sorrow and deep loss that we feel at this moment," Warren said. "A family has lost a loved one. The men and women of our police department have lost a family member and a friend. And we the people of Rochester have lost someone, who like every other RPD officer, put their life on the line, day after day, for us."
Gov. Andrew Cuomo said flags on state government buildings will be flown at half-staff Friday in Pierson's honor.
Before a Thursday morning news conference, dozens of police officers met with the mayor and police chief at Rochester's public safety building, some in tears. Flags there were already at half-staff.
Copyright 2014 The Associated Press