Man reunited with Fla. deputy who saved his life by applying tourniquet to his leg
Rafael Villalba had seen Deputy Josh Snow in a newspaper article and wanted to personally thank him
---
By Bill Carey 
Police1  
SARASOTA, Fla. — Last summer, Rafael Ayala Villalba was thrown from his motorbike in a traffic accident in Sarasota County. The injuries Villalba received would dramatically change his life and would have been fatal if it were not for the actions of a Sarasota County sheriff's deputy. 
In what he thought would be his final moments of life, Villalba did not expect the Sarasota County Sheriff's Deputy who rushed to his aid to be his literal lifesaver.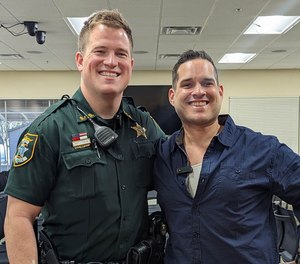 Deputy Josh Snow was the first at the scene of the crash where he discovered Villalba suffering from serious leg injuries. Snow immediately began applying a tourniquet while receiving assistance from an off-duty paramedic, WWSB reported.  
Villalba spent months undergoing several operations that ultimately led to a hip disarticulation. He was then fitted for a proper prosthetic – allowing him to start regaining mobility. 
Villalba had seen Snow in a newspaper where he had received an award for his lifesaving actions and wanted to eventually reach out and thank him. On March 16, the two were reunited for an emotional meeting at the Sarasota County Sheriff's Office. 
"Honestly I couldn't believe this was going to be the day, the day I get to meet the man who saved my life," Villalba said. 
"Days like this make all the training, all the hard work, everything without a doubt worth it. It's why we do it, to be able to save people's lives," said Snow.