The Up-Beat: Top police heroes of June
Our monthly roundup of cops doing good across the nation
---
By Police1 Staff
From small gestures of kindness to incredible acts of heroism, police officers help their communities every day. Our monthly news roundup, The Up-Beat, aims to bring greater attention to these inspiring stories.
This month, we're highlighting a quiet moment of compassion, rescues at sea and more stories of cops lending a hand. Do you have an uplifting story to share? Email editor@police1.com or submit a story using the link below.
HERO OF THE MONTH: Trooper Jaret Doty
Ashlye Wilkerson still thinks about the day she and her father, Anthony Geddis, were pulled over for speeding. But it's not for the reason you might think.
Geddis explained to Trooper Jaret Doty that his daughter had been driving him back from chemotherapy to treat his colon cancer. Doty himself had narrowly avoided colon cancer with early surgery. Instead of writing a ticket, Trooper Jaret Doty asked if he could pray with Geddis.
"Of course," said Geddis, a deacon at his church. "I absolutely believe in prayer." 
Geddis died two months later. Wilkerson wrote a heartfelt thanks to Doty for his compassion and prayer that day. FULL STORY
2. Watch: Fla. deputy who trained as a lifeguard saves swimmer from rip current
A Florida deputy was honored with a life-saving award after he rescued a swimmer from a dangerous ocean current. Bodycam video captured the dramatic rescue. FULL STORY
3. Watch: 'Roadrunner' officer sprints after driver having medical emergency
Officer Joe Cavalleri ran down the vehicle when the driver failed to respond. FULL STORY
4. Heroic Mass. officer rescues 5 people, including baby, after boat capsizes
Officer Matthew Bodwell, an experienced mariner and an assistant harbormaster, was credited with saving five lives. FULL STORY
5. St. Paul cop mentors future officer he found working at Arby's
A chance encounter at a fast-food joint led to a friendship and a career in law enforcement. FULL STORY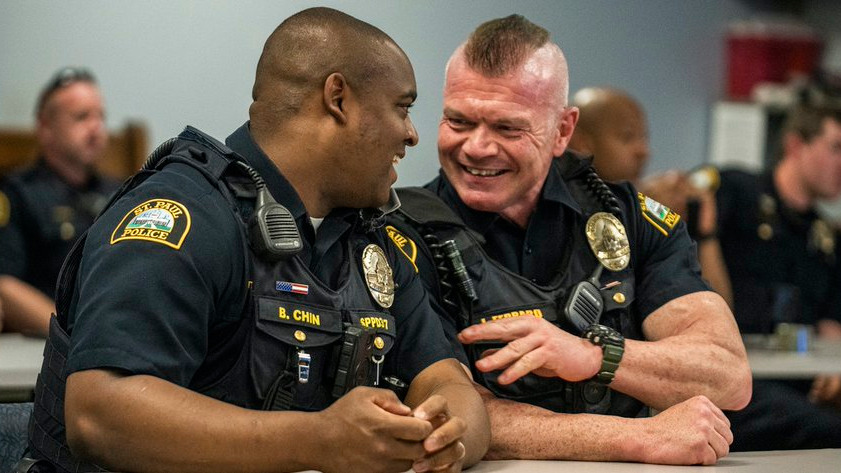 A Hero's Hero
Sometimes cops need a helping hand, too.
In this story, neighbors stand in solidarity with police after their HOA ordered the father of a slain officer to remove a thin blue line flag. FULL STORY
Whether it's your own story, a colleague's, a neighboring PD's, or simply something you saw on the internet, submit your good police news to us HERE for a chance to be featured in The Up-Beat.