PRESS RELEASE
The Metropolitan Police Department engages in a friendly social media campaign to attract police recruits
---
WASHINGTON, DC – The Metropolitan Police Department (MPD) has recently engaged in a new and exciting social media recruitment campaign to attract and hire new police officers. DC Fire and Emergency Medical Services (DC Fire and EMS), a local partner, recently accepted a challenge to solicit jobs openings in the public safety sector.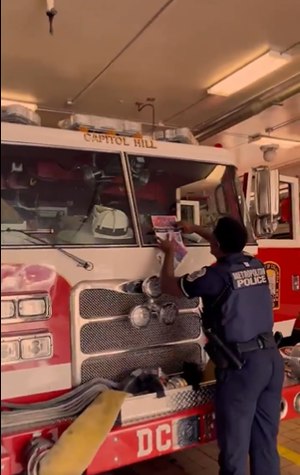 The challenge began when an MPD member placed police recruiting fliers under the windshields of a fire truck parked inside a fire station. In response, DC Fire and EMS visited an MPD police station under the guise of providing routine fire alarm checks, but used the opportunity to post fire recruiting fliers. Both recruiting attempts were filmed and placed on respective social media platforms, where the public attention began to increase.
From mass transit signs to billboards, and beyond, the Metropolitan Police Department has placed an emphasis on recruiting in unique ways. Our department is actively hiring and starts a new recruit class everymonth. As an added recruitment bonus, in June, 2022, Mayor Bowser and MPD announced a $20,000 hiring bonus, and if new hires choose to live in DC, they are eligible for up to $6,000 in rental housing assistance. Additionally, new hires coming from more than 50 miles away are also eligible to stay in a hotel for their first 14 nights. Please visit joinmpd.dc.gov for more information and to apply.

Request more info from DC Metropolitan Police Department
Thank You!