4 reasons the new Ruger PC Carbine 9mm is right for LE
Distance is always our friend in police work and this firearm lets officers keep their distance while providing for accurate fire on target when needed
---
By Steve Tracy, P1 Contributor
I saw the pump action shotgun mounted in my first squad car swapped out for an HK MP5. Then the department swapped the 9mm MP5 for the 5.56mm AR-15 that became all the rage several years ago. Recoil management was a constant concern for officers of smaller stature with the shotguns. We only fired a few shells each year to qualify and the larger cops didn't care for scatterguns much either. 
The concerns with the shotgun vanished with our use of the 10-inch barrel HK MP5 9mm semi-automatics. We fired them much more during qualifications, and recoil of the 9mm handgun cartridge when fired from the shoulder was non-existent.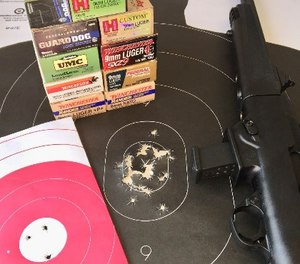 Accuracy was greatly improved and officers found precision shots at 25 yards were obtainable with the stability provided by a shoulder-fired weapon. The average officer even had confidence to hit a target at 100 yards.
When the AR-15 wave came, we switched again, mounting the carbines in our squad cars. But some familiar problems popped up.
Smaller stature officers had a hard time managing the forward weight balance of the AR-15. The controls (safety, bolt release, magazine release and charging handle) were challenging to master for non-military veterans, and our department had to buy 5.56 ammo (just like we had to stock 12 gauge shotgun shells years earlier).
While recoil of the AR-15 is minimal, the muzzle blast – particularly when fired at indoor police department shooting ranges – can be distractingly loud.
The 9mm carbine still has a place in law enforcement and Ruger's new PC (pistol caliber) Carbine offers four advantages:
1. The new Ruger PC shoots 9mm ammunition
The Ruger shoots 9mm ammunition that most departments already have on hand, so your police firearms training budget won't burst to purchase shotgun or rifle rounds at a higher cost. If you're looking at a personally owned rifle, you can use department 9mm ammo on duty instead of buying your own shotgun or rifle ammo.
2. The new Ruger PC utilizes Glock magazines
In a smart move by Ruger, its new carbine utilizes Glock magazines.
Glock 17, 19 and the extended 33-round Glock magazine function in the Ruger PC when used with the supplied Glock magazine well. This ingenious feature means the Glock pistol already on your duty belt shares its magazine with this new carbine.
Other magwells will handle the Ruger SR-9, Security-9 (included) and the Ruger American (available for $29.99 from www.shopruger.com with an additional 20% off when you register the gun for its warranty online).
3. The weight of the new Ruger PC is well balanced
The Ruger PC is light, weighing 6 lbs., 10 ounces, which is equal to most standard AR-15 carbines. However, the Ruger's weight is better balanced toward the middle of the gun.
The PC has a rectangular chunk of tungsten metal secured within the bolt to add weight to slow the carbine's "dead blow" action and reduce recoil. Officers of smaller stature found the Ruger PC's balance easier to manage than an AR-15 rifle, which is considerably more muzzle heavy.
The Ruger carries effortlessly and comes to the shoulder quickly. The fully adjustable rear aperture sight lines up well with the protected post front sight and worked well during both indoor lighting and outdoors in sunshine. The rear sight is more forward than on an AR-15, which helps align it with the serrated front sight, especially helpful for officers with older eyes.
4. The new Ruger PC accurately places rounds on target
The fourth reason the PC Carbine works well for law enforcement is its ability to accurately place rounds on target.
The Ruger was found readily capable of firing 30 rounds at 25 yards into a standard silhouette ten-ring from a standing, offhand position. That's better by far than I (and most officers) could do with a 9mm handgun. Even the best shooter knows that the stability offered by a shoulder-fired weapon is always better than a handheld firearm.  
The PC was also test fired topped with a Sig Sauer Romeo 5 red dot sight and was found to group even tighter at 25 yards than with the iron sights. Distance is always our friend in police work and this firearm lets officers keep their distance while providing for accurate fire on target when needed.
Lefty – Righty
The PC is patterned after the .22 caliber 10/22 that Ruger has been making for over 50 years. The trigger is similar and was measured at an ideal 4.5 pounds with a Lyman digital trigger pull gauge. A bolt catch/release is located under the carbine, just forward of the trigger guard. A push button safety is also located on the forward portion of the trigger guard and both of these features are ambidextrous.
The magazine release button is positioned on the left side of the receiver, but can be swapped over to the other side if desired. The bolt handle is a large round extended knob and it too can be quickly swapped from the factory right side to the left side of the bolt. I switched it to the left side and found that I could intuitively maintain a proper firing grip with my right hand while keeping it shouldered and then switch out magazines and release the bolt with my left hand.  
The 15 percent of left-handed police officers will find shooting the PC both natural and comfortable. Empty brass ejects directly to the right and not into the shooter's face.
Takedown System
An added benefit of the new PC Carbine is its quick takedown ability.  With the bolt locked back, simply moving the lever recessed under the forearm allows the barrel/forearm to twist and pull apart from the receiver for storage or transport in a smaller package. The takedown system is also excellent for cleaning the firearm.
The 9mm cartridge still has a place in a law enforcement carbine due to its low recoil and accurate fire. For the average officer, the Ruger PC Carbine is intuitive to carry, sight and fire. It should be noted however that unlike revolver handgun cartridges (with larger case volume holding more gunpowder), not all of today's 9mm cartridges will hold or improve their velocities when fired out of a longer barrel.
Range testing found that Winchester's 124-grain NATO rounds averaged (five shots) 1490 fps (feet per second) out of a 5-inch barrel handgun. However, the same ammo averaged 1251 fps (measured with a Chrony chronograph 10 inches from the muzzle of each firearm) out of the Ruger PC Carbine.
Modern 9mm ammo often utilizes fast burning powders to make the most out of pistol length barrels. These particular cartridges do not always translate to higher velocities in longer barrels. Care should be taken to research which 9mm cartridges will hold or even improve their velocities. Large gains (as experienced by the .357 Magnum revolver vs lever action carbine) should not be expected. Moderate gains with lighter weight (115-grain) bullets are more common and can result in slightly better bullet expansion, but slightly less penetration (due to the larger expansion).
The Ruger PC Carbine's ability to fire 9mm ammo from the same Glock magazines as an officer's duty gun in a readily manageable package, while being accurate on target at distances greater than those achievable with a handgun makes the PC an excellent choice for those law enforcement agencies or officers who understand the weapon's capabilities.
Ruger's specifications for the PC Carbine are as follows:
Glass-filled nylon synthetic stock with sling swivel studs;
Buttpad spacers for adjusting length of pull;
Top Picatinny rail for red dot sights or scope;
Underbarrel Picatinny rail for lights/lasers;
Hard coat anodized, CNC milled 7075-T6 aluminum billet receiver;
Colt hammer forged, chrome-moly steel barrel with precise standard rifling;
16.12-inch heavy contour barrel with lightening flutes and ½"-28 threaded barrel;
MSRP of $649, but real-world selling price is less.
---
About the author
Steve Tracy recently retired from the Park Ridge Police Department (which borders the northwest side of Chicago) after 30 years of service, 28 as a firearms instructor.

Request product info from top Police Firearms companies
Thank You!