5 things to know about smart guns
Reliability isn't the only thing getting in the way of the technology
---
By Police1 Staff
Law enforcement agencies are always on the hunt for new technology to improve policing. Smart guns have been in the works for decades, and in addition to being advertised as a solution to stolen guns, accidental shootings and youth suicides, much of the sales pitch has focused on how they could benefit LEOs. Here are five things to know about the tech.
1. There are many different types of 'smart guns'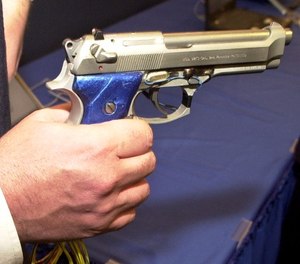 A "smart gun" is a firearm that uses technology to prevent anyone except the owner from firing the weapon. This is achieved in different ways depending on the design, including through fingerprint sensors, radio-frequency identification (RFID), magnets and biometric sensors that unlock the weapon based on a combination of grip style and the strength and size of the person's hand.
Some models allow the gun's owner to enable other people to have access to the weapon (like the owner's spouse, for example).
2. Are they reliable?
One of the major issues holding up the technology is the question of reliability.
Former President Barack Obama famously said in a 2016 speech on gun control: "If we can set it up so you can't unlock your phone unless you've got the right fingerprint, why can't we do the same thing for our guns?"
Unfortunately, it's not that simple.
A big concern among law enforcement over models that employ biometric technology like fingerprint scanning is the authentication simply doesn't work 100 percent of the time – as anyone with an iPhone can attest. All it takes are duty gloves or dirty or wet fingers to lock a user out of their own weapon.  
And, of course, any time you introduce electronics into the equation, you're vulnerable to hackers. RFID, for example, can be hacked. And news broke just last week that a hacker uncovered multiple vulnerabilities in the Armatix IP1 smart gun – including the ability to circumvent the gun's safety systems with about $15 worth of magnets.
3. Smart guns have faced a ton of pushback
Reliability isn't the only thing getting in the way of the technology. Colt as well as Smith & Wesson dipped their toes into the smart gun market decades ago, but both faced damaging boycotts from gun rights activists. In Smith & Wesson's case, the pushback – led by the NRA – was bad enough that it resulted in 125 layoffs. 
In 2002, New Jersey passed a law that mandated only smart guns would be sold in the state three years after the tech became commercially available. In the ensuing uproar, gun rights advocates went so far as to threaten stores that attempted to stock the IP1. The NRA also came out against the law:
Gun control supporters advocate laws to prohibit the sale of firearms that do not possess "smart" technology, as a way to prohibit the manufacture of traditional handguns, raise the price of handguns that would be allowed to be sold and, presumably, to imbed into handguns a device that would allow guns to be disabled remotely.

The NRA doesn't oppose the development of "smart" guns, nor the ability of Americans to voluntarily acquire them. However, NRA opposes any law prohibiting Americans from acquiring or possessing firearms that don't possess "smart" gun technology.
But consumer opinion may be shifting the other way. According to a study released by Johns Hopkins last year, nearly 60 percent of Americans are willing to purchase a smart gun if they buy a new gun.
4. Obama pushed LE to use them
Last year, Obama pushed the adoption of smart guns by law enforcement agencies, offering research grants and tasking the DOJ with issuing voluntary guidelines for manufacturers of the features cops expect from smart guns and the steps they need to take to ensure the weapons are "safe and reliable" for law enforcement. Although Obama is now out of office, it's likely many manufacturers will follow or at least take into consideration these guidelines, as they're specifically designed to help close many of the gaps (explored further below) that have caused such hesitation for police departments to test out or adopt the tech. You can read the whole thing here.
During the push, Obama's White House press secretary Josh Earnest told reporters:
"I think what is true is that I couldn't think of another industry off the top my head that isn't interested in looking at new technology to make their product safer. It's surprising to me that so many gun manufacturers shirk that responsibility."
President Trump has yet to weigh in on the issue.
5. How do cops feel about them?
Two years ago, then-San Francisco PD Chief Greg Suhr called the technology a "no-brainer," and championed its utility for plainclothes cops.
"If you're in plainclothes, most officers don't have safety holsters," Suhr said in an interview with 60 Minutes. "If you had a gun that you were hands-on with a suspect and the suspect got your gun and you didn't have to worry about it, that'd be nice."
In fact, the gun grab safety issue is one of the most common arguments for why smart guns could be a huge difference-maker in officer safety. From 2006-2015, 24 police officers were feloniously killed with their own weapon, according to the FBI.
Many proponents of smart guns have called on law enforcement agencies to take the lead on piloting the technology, arguing that doing so would help move them along both in terms of development and consumer acceptance. 
MetroIAF, a coalition of activists, say over a hundred police departments have signed a letter of interest in the technology, and the IACP has said that there would be "plenty of agencies interested in beta testing."
But in addition to reliability concerns, another big hold up is the lack of firepower in the models currently available – the IP1, for example, uses .22 rounds. Armatix plans to soon roll out a new model that uses 9mm ammunition and has additional features tailored to law enforcement, such as a PIN-code activated grip.
But even with the introduction of new, more LE-friendly models, there is also the question of whether putting untested technology into the hands of first responders that face uncertainty every day on the job is a good idea.
"Police officers in general, federal officers in particular, shouldn't be asked to be the guinea pigs in evaluating a firearm that nobody's even seen yet," James Pasco, executive director of the Fraternal Order of Police, told Politico at the time of the Obama push. "We have some very, very serious questions."
While new tech like predictive policing software and body-worn cameras are likely to become ubiquitous law enforcement tools in the not-so-distant future, smart guns seem to have stalled out – for now. But given the technology's potential, it's probably only a matter of time before a model that addresses the needs of police officers makes its way onto the market and departments and investors get on board.

Request product info from top Police Firearms companies
Thank You!