LAPD picks FN 509 MRD-LE as new duty weapon
The gun made it through a rigorous testing process that proved the weapon's accuracy and durability, the manufacturer said
---
By Suzie Ziegler 
MCLEAN, Va. — The Los Angeles Police Department has selected the FN 509 MRD-LE as its new duty pistol, announced gun manufacturer FN America on Tuesday.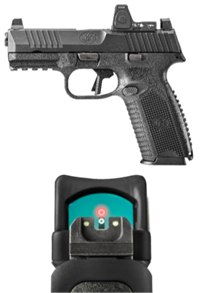 According to FN America, the LAPD made the decision after a rigorous testing process, including a 20,000-round-count endurance qualification, which the 509 MRD-LE passed with zero malfunctions.  
"Exceeding all of the requirements LAPD sought in their new duty pistol was a high-performance standard to meet," said Chris Cole, vice president of sales and marketing at FN America, LLC, in a statement. "With over a million rounds fired in development, the FN 509's reputation for durability is proven here again giving LAPD officers a superior handgun they can depend on in the most demanding policing environments." 
The FN 509 MRD-LE has improved accuracy and sighting versatility thanks to the patented FN Low-Profile Optics-Mounting System, according to the company.
[RELATED: 6 considerations for selecting a new duty weapon] 
"LAPD needed the ability to quickly and securely mount a variety of duty-rated micro red dots to their service pistols to improve the accuracy potential of their handguns and their officers," said Charles Mills, senior director of law enforcement sales for FN America, LLC, in a statement. "FN pioneered the MRD mounting technology the LAPD required, enabling precision shot placement and immediate target engagement no matter the environment."
FN 509 MRD-LE features a hammer-forged barrel with recessed target crown, conical striker and flat-faced, duty-rated trigger and co-witness tritium 3-dot iron sights, according to the release. 
DOWNLOAD: How to buy firearms (eBook)

Request product info from top Police Firearms companies
Thank You!