5 ways speech recognition technology helps solve law enforcement challenges
Use your voice to increase situational awareness, reporting accuracy, time efficiency, cost savings and physical comfort
---
Sponsored by Nuance Communications
By Cindy Coleman for Police1 BrandFocus
An officer's patrol car can seem like a second home, especially when sitting for long periods of time entering incident reports into CAD and RMS systems on the patrol car laptop. The information is vital to keep cases and investigations moving forward, but being bent head-down over a computer makes you less situationally aware and vulnerable to your surroundings. Also, typing on the laptop in your patrol car can lead to awkward twisting and turning which can cause back pain and other physical discomforts.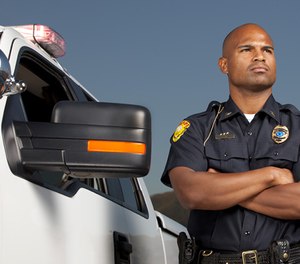 Decreased situational awareness and poor ergonomics are just a few of the challenges facing a law enforcement officer when filing incident reports. According to an industry survey, law enforcement professionals spend more than 50 percent of an average eight-hour shift doing paperwork whether in the patrol car or at the station. When officers spend more than half of their day filing reports and doing other essential documentation tasks, they lose valuable time they could be spending policing the community.    
Speech recognition solutions such as Nuance Dragon Law Enforcement solve five key law enforcement challenges in documenting mission-critical information in faster, safer and more efficient ways – all by voice.
1. Increased situational awareness
A majority of respondents in the Nuance Dragon 2018 Role of Technology in Law Enforcement Paperwork annual report agree that the technology packed into today's patrol cars is often cause for distraction, impacting situational awareness and officer safety. When an officer's focus is on entering data, they are paying less attention to their surroundings. Speech recognition technology improves in-car documentation – thus improving officer safety in the field – by letting officers write reports, look up license plates and even control CAD/RMS systems using their voice while staying heads up with eyes on their surroundings.
2. Increased accuracy in incident reporting
Transcribing hand-written notes that may be difficult to read or taken hours before can lead to inaccurate documentation. Speech recognition solutions increase accuracy in incident reporting by eliminating the guesswork in transcribing handwriting and also event recall. Since notes can be taken in real-time simply by speaking, they can capture more specificity, while thoughts are still fresh on an officer's mind versus trying to remember details hours later. Officers tend to be more specific and in-depth in their reporting by actually "speaking" a report. Overall, fast and detailed dictation that happens in real-time results in more thorough, accurate reports.  
3. Incident reports filed in a more-timely manner
Speech recognition software is powerful. Waiting hours to get back to the station to file a report is no longer an issue when data may be entered by voice into CAD and RMS systems right in the patrol vehicle. Departments can create reports three times faster by voice by dictating in real time. With faster turnaround and filing of documents, investigations and court proceedings move forward more quickly – and importantly, more accurately.
4. Reduced transcription time and costs
On average, an officer spends two hours writing and filing an incident report. Through the use of speech recognition solutions, departments may reduce the time needed to transcribe documents, reduce dependency on transcription services, and thus reduce outsourcing costs. Nuance found that of respondents who use transcription as an incident report documentation process, 50 percent do it themselves – manually transcribing notes for incident reports.  Others opt to rely on manual incident reporting only. Speech recognition software can save departments thousands of dollars in outsourced transcription services and cut officer time spent writing manual incident reports by instantly transcribing audio files.
5. Minimized physical discomfort
The poor ergonomics of sitting in a patrol car to type a report can be reduced when using voice recognition technology. CAD and RMS systems are helpful and essential, but it may take multiple clicks to completely fill out an incident report. This constant clicking and turning may leave you with pain in the back or a sore wrist. "Speaking" this information into a system integrated with speech recognition software minimizes the physical discomfort from sitting long hours turning your upper body awkwardly and clicking multiple times to complete incident reports in your vehicle.
Speech recognition technology helps meet the challenge
As police departments look for ways to better serve their communities, speech recognition technology such as Nuance Dragon Law Enforcement increases productivity, efficiency and safety while allowing officers to be "heads-up" in the patrol car and more situationally aware. More law enforcement professionals are turning to new technologies such as speech recognition to help reduce the burden of documentation so they can do what they do best –spend time in the community, protecting and serving the public.

Request information from Nuance Communications
Thank You!