PRESS RELEASE
Stalker Announces the Stalker Lidar Police Laser
---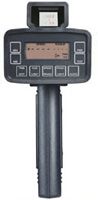 The Best Choice for Dense Traffic Speed Enforcement
The STALKER LIDAR is the next generation of police speed laser guns with outstanding performance and features. It is available with a corded handle and with the popular cordless battery handle configuration.
User Friendly
The STALKER LIDAR has been designed to provide the operator with the most features of any laser while at the same time making the product very easy to use. You won't find a lot of cryptic multi-function buttons on the STALKER LIDAR. The keys on the STALKER are backlit and well labeled. Each key does an obvious and clear function.
Doppler-Type Audio Tracking
Most laser operators also operate radar. The STALKER LIDAR generates a continuous Doppler-type audio tone which correlates to the target speed - just like the audio on a police radar. This audio is a substantial aid to understanding and building a target tracking history - providing a better evidentiary case for citations.
Features Include:
Built-In H.U.D.
Continuous Speed Tracking
Quick Target Acquisition
Inclement Weather Mode
Doppler-Type Audio Tracking Tones
Simultaneous Speed & Range Display
Detachable Battery Handle
Time / Distance (Stopwatch) Mode
Backlit Switches and Display
Digital Signal Processing
RS-232 Output for Computers
Software Upgradeable
Heads Up Display With Speed & Range
STALKER LIDAR is the only laser on the market to provide the user with both speed and range information together in the heads up display. This provides the operator with the distance confirmation on every target - without having to constantly check the LCD.
Updated Design
STALKER LIDAR has been updated to provide greater range, even quicker target acquisition, and inclement weather mode. With the inclement weather mode, the lidar can be operated in all weather conditions including snow, rain, and fog.

Request more info from Stalker Radar
Thank You!