2011 Chevrolet Caprice: This is going to be fun
---
I was a brand new officer in 1994 when I was given an opportunity to drive a 1987 Chevrolet Caprice. Made famous in a number of movies, this full size black and white did not disappoint. I don't even know what kind of modifications had been made to the car, but it sounded mean and driving it was fun.
Even as a new officer, I didn't have the car long before I was given an opportunity to drive various other models, most not worth mentioning. A few years later I received a car that many have called one of the greatest ever made for police service — a 1995 Chevrolet Caprice 9C1.
Powered by a LT1 260 Horsepower, 5.7 Liter engine, the car was one of the most popular for the LE profession of all time. To this day, there are many enthusiasts that just can't let go of this icon. But all good things had to come to an end and in 1996, General Motors ceased production on the Caprice.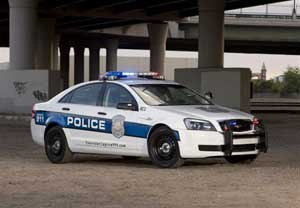 Flash forward 13 years and the gauntlet is being thrown down. If the 2006 Dodge Charger broke the mold for police cars, the 2011 Chevrolet Caprice blows it up. According to the general manager for GM Fleet and Commercial Operations, Jim Campbell, "We asked for a lot of feedback from our police customers, which helped us develop a vehicle that is superior to the Crown Victoria in key areas."
With a sleek and sporty look, the 2011 rear wheel drive Caprice sports an impressive 6.0 Liter, V8 Engine rated at an estimated 355 horsepower. According to GM, the new Caprice "is not based on existing civilian passenger-car model sold in North America. It has been developed in key areas specifically for police duty."
General Motors expects "a sub six second" 0-60 acceleration and a top speed when compared to others in its class. They say the car will contain two trunk-mounted batteries, with one of them dedicated to powering various police equipment along with built in compatibility with in-dash touch-screen computer technology.
According to Bob Demick, the lead seat design manager, "The shape (of the seat) also enhances entry and egress, making it easier for officers to exit the vehicle quickly. The seatback bolsters, for example, have been purposefully contoured to help pocket the equipment on the belt, which includes the gun, TASER, and handcuffs, which rest comfortably in the sculpted lower bolsters. That also increases the longevity of the trim cover surface."
The Caprice boasts a larger interior than its competitors at 112 cubic feet including more legroom and special features will include spotlights, lockouts for the power windows and locks and an "undercover" street-appearance package titled the 9C3.
Chevrolet & Policing: A Brief History
Chevrolet's history with law enforcement is almost as old as the brand itself. Police departments have used Chevy sedans as police cars for decades, ordering them with basic equipment and powerful V-8 engines — including some special engines that weren't available in regular-production models, such as the 1959 Biscayne that was offered with up to 315 horsepower. The full-size Chevrolets joined the force in 1976. All Caprice police cars — including the new, 2011 model — have carried the 9C1 order code. Here's a quick look back at Chevys on patrol:
1959 — Chevy Biscayne police model capable of 135 mph with specially tuned, police-only version of the 348-cubic-inch V-8 engine
1965 — The new "big-block" 396 engine is offered in Biscayne and Bel Air police cars, making them among the most powerful on patrol; a 427 V-8 was added in 1966
1976 — The 9C1 order code is given for the first time to a full-size Chevy police car package. It carries the Impala name.
1977 — The full-size Chevy is downsized. The 9C1 police package is retained, as is the Impala name.
1986 — The Caprice name replaces Impala, as the car is updated for the mid- and late-1980s — including the option of a powerful, 5.7-liter small-block V-8.
1991 — A new-generation Caprice is launched, with the 9C1 police car still on the beat.
1994 — The 260-horsepower (194 Nm) LT1 V-8 engine is offered in the Caprice 9C1, making it one of the fastest full-size police cars ever offered.
1996 — Caprice police car production ends, as GM's full-size, body-on-frame car architecture is discontinued.
2011 — The Caprice PPV returns to active duty.
There is much we still don't know about this car and while the specifications are impressive, there is only one way it will prove itself: that is with America's Finest behind the wheel. That will tell the story and Chevrolet is confident that story will be a huge success. Orders for the 2011 Chevrolet Caprice can be placed in the 3rd quarter of 2010 with deliveries beginning in early 2011.

Request product info from top Police Vehicles companies
Thank You!