9 things police investigators need to know about the internet of things
In today's constantly connected culture, there's a new tier of eyes and ears to assist with police investigations
---
Modern technology can be both a blessing and a curse. The PoliceOne Academy provides training on such topics as cybercrime, cryptocurrency investigations and how police can use social media to solve crime. Visit PoliceOne Academy to learn more and for an online demo.
By Jonathan Rajewski, Police1 Contributor
You've probably heard about the "Internet of Things," or the "IoT," the billions of networked devices that have become part of our everyday routines. From smartphones, to fitness trackers, to networked refrigerators, our lives have been infiltrated by new objects that constantly collect data.
These technological wonders have added convenience to our lives, but for law enforcement officials, they've added something more. In today's constantly connected culture, there's a new tier of eyes and ears to assist with police investigations.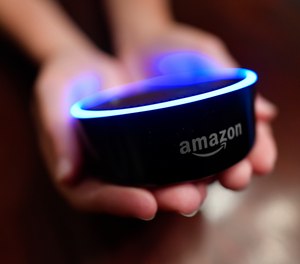 My job as a digital forensics investigator is to use the data provided by these devices to help law enforcement solve crimes and seek justice.
As director of the Senator Patrick Leahy Center for Digital Investigation at Champlain College, I run one of the top digital forensics training labs in the country.
Simply put, I am an expert in using the Internet of Things to help solve crimes.
This technology is complex and constantly evolving. As it can be hard to know where to begin, I've put together nine tips to help police officers get more comfortable using the IoT in investigations.
1. Get to know the IoT
Manufacturers are constantly creating new versions of everyday objects that can connect to the Internet. There are hundreds of new products on the market that are always sending and receiving data. Some examples are thermostats, baby monitors, light bulbs, watches, fitness trackers, smartphones, door locks, pet cams, security systems, music players, kitchen appliances, networked TVs, smart speakers, and bathroom scales. If you are not looking for them, you might not even realize they are there.
My best advice to someone just getting to know the Internet of Things is to take a field trip to your local big box electronics store. Walk through the aisles and take note of all the products that can connect to the Internet. Talk to the salespeople and learn more about how you can control these devices with your cell phone. Now that you know what to look for, you'll begin to see ordinary objects differently.
2. Look for digital witnesses
When you arrive at the scene of the crime, scope out the digital witnesses that might be able to assist you. Just like you would canvass a scene for bystanders who might be able to help tell the story of a crime, train yourself to scan for objects that might have captured data. Keep your eyes open for the things around you that might help corroborate a story. Naturally, you will be focused on the people involved in your investigation, but don't forget that IoT devices can act like witnesses, too.
3. Know your resources
Digital forensics is a specialty. Every state has a digital forensics lab and internet crimes task force, where you'll find specialists who can help you navigate the IoT. Get to know these people. They're an important resource.
You don't need to be an IoT expert, you just need to know the basics. For instance, if a suspect is wearing a fitness tracker, that tracker will contain GPS location and heart rate data. It's not your job to access and decode that data yourself. But you do need to notice the tracker so that you can work with your department to turn that evidence over to the tech team.
4. Assume you are being watched
Like it or not, someone may be watching you. Even if you are not wearing a body-worn camera, you could be caught on film. Today, video cameras can be totally wireless, and smaller than a dime. Conduct yourself like someone is watching.
5. Ask for consent
When you are working with victims, don't hesitate to request access to their data. Ask if they'd be willing to log on to Facebook and show you their messages. See if they'll share data from their smart speaker or home security camera. Make sure you have a consent form handy that explains what you plan to do with what you find. Prepare these protocols in advance, so they're ready when you need them. And, as always, leave your contact information or business card.
6. Lack of data may also be evidence
When a device goes offline, it often means something. Was the object disabled on purpose? Was it smashed or disconnected to divert or disguise something? Pay attention to where the data stops. This is also an important part of the story.
7. Data can be stored in more than one place
Just because data has been erased from a device doesn't mean it is gone forever. Sometimes data exists on the hardware itself, and sometimes it is stored on a remote server, often referred to as "the cloud." Take cell phones, for example. You can wipe your cell phone clean of all photos, text messages, apps and call records, but if your phone is being backed up to the cloud, the data is still accessible. Plus, your carrier will still have the call records, your apps will be backed up, and anyone with whom you have conversed will have records of your sent and received messages. Cell phones are just one example. Most IoT devices today leave footprints in multiple places.
8. Act fast to capture data
Digital fingerprints often have an expiration date. Every service has its own policy about how long data is stored. For instance, some digital security cameras clear their cache every seven days. Other platforms refresh nightly. The storage time varies depending on the service, so keep in mind you may have a limited amount of time available before critical data is erased.
9. Digital forensics takes time
One of the most frustrating parts of digital detective work is the lag time. Obtaining access to account information from corporate giants like Microsoft, Verizon, and Amazon can be slow. That's why it is important to make the request as soon as possible. Don't be surprised if these companies keep you waiting. Bear this in mind as you work through your investigation.
The impact of the IoT in our lives will only continue to grow. As time goes on, it will be nearly impossible to commit a crime without leaving some sort of digital footprint. More crimes will be solved thanks to IoT data. That's good news for all of us who dedicate our lives to the safety of civilians.
---
About the author
Jonathan Rajewski is the director of the Senator Patrick Leahy Center for Digital Investigation at Champlain College. To learn more about his work, visit www.jonrajewski.com or find him on Twitter. Champlain offers a BS in Computer & Digital Forensics, an online BS in Computer Forensics & Digital Investigations, and an online MS in Digital Forensic Science, as well as a graduate certificate in Digital Forensic Science. The program has been designated a National Center for Digital Forensics Academic Excellence (CDFAE) by the United States Department of Defense Cyber Crime Center (DC3) and was named a "Most Innovative" school by U.S. News & World Report for the fourth year in a row.