Minn. lawmakers push for officer diversity, crisis training
The measure would require mandatory lessons in crisis management, mental health crises and "recognizing and valuing community diversity and cultural differences"
---
By Kyle Potter 
Associated Press
ST. PAUL, Minn. — Minnesota lawmakers began moving Wednesday to require diversity training for law enforcement officers following two high-profile fatal shootings of black men by police in the state in the last 15 months.
Shootings of black men by police have touched off protests nationwide in recent years and prompted the Black Lives Matter movement to call for police reforms. But Minnesota's effort is unusual because it has bipartisan support and the state's powerful law enforcement groups back it too.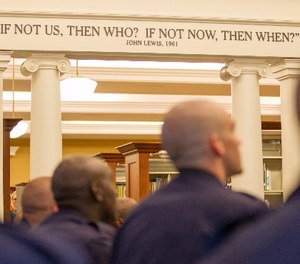 Minnesota Police and Peace Officers Association Executive Director Dennis Flaherty said the effort isn't a direct response to the shootings of Philando Castile last July and Jamar Clark in November 2015. But he noted that the shootings brought closer scrutiny of departments and training.
"This will be a game-changer for law enforcement," Flaherty said.
Castile, 32, was shot and killed during a traffic stop in a St. Paul suburb. Officer Jeronimo Yanez has been charged with second-degree manslaughter. There were no charges against two Minneapolis police officers involved in the fatal shooting of 24-year-old Jamar Clark.
Other states that have beefed up officer training requirements include Colorado and Connecticut. Meanwhile, Republican-controlled legislatures in Arizona and Pennsylvania have responded to the increased scrutiny on police by trying to delay the identification of officers until a month or more after an officer shoots someone. Governors in both states vetoed those measures.
Chuck Wexler, executive director of a group dedicated to improving officer training called the Police Executive Research Forum, was struck by the $10 million of public money Minnesota lawmakers were prepared to put toward the new training.
"What Minnesota would be saying to the country is: 'We think this is a significant enough issue that we're willing to put a significant amount of money into retraining every single officer,'" he said. "I can't think of another state in the country that has stepped up in the way that Minnesota has."
This isn't Minnesota's first reaction to such shootings. Last year, the Legislature approved $35 million in new programs meant to reduce long-standing economic disparities between black and white residents, which protesters from Black Lives Matter and other organizations targeted as a root problem behind tension with police. Democratic Gov. Mark Dayton created a council this fall aimed at improving police-community relations.
It's unclear what the new training would cover; that would fall to individual departments if the law is signed. The measure before the Legislature put state money toward several hours of mandatory lessons in crisis management, mental health crises and "recognizing and valuing community diversity and cultural differences" as part of every officer's three-year license renewal period. Minnesota law already requires officers to get use-of-force and emergency driving training.
The legislation would also dedicate $1 million to help departments hire a more diverse workforce that matches the communities they serve — efforts that Bloomington Police Chief Jeff Potts said "just haven't proven to be very successful yet."
In Minnesota's Capitol and statehouses across the nation, law enforcement mandates typically divide lawmakers along party lines and often prompt more protests. But the training bill is backed by Democrats and Republicans alike, including a powerful House Republican and former police officer. It unanimously passed a House panel Wednesday.
Rep. Raymond Dehn, a Minneapolis Democrat whose district includes the site where Clark was killed, said it's a no-brainer for him and fellow Democrats to support. He said it's the result of the pressure on law enforcement agencies to make changes on their own.
"It does surprise me that they are moving in the direction where they see the need within their own rank-and-file, that things need to be different," he said. "It's training in the areas that people in the community are screaming about."