TSA stops teen for purse with gun design
Replica weapons have been banned since 2002
---
By Police1 Staff
NORFOLK, Va. — TSA agents stopped a teen from boarding a flight because her handbag looked like a gun.
Vanessa Gibbs, 17, was told by officials at Norfolk International Airport that her purse posed a security risk, according to WJXT. Gibbs said the bag's studded firearm design was no problem for officials at Jacksonville International Airport, which she passed through before her stop in Virginia, but that a TSA agent told her the bag was a "federal offense."

"It's my style, Gibbs told the station. "It's camouflage. It has an old western gun on it … it's a design on a purse. How is it a federal offense?"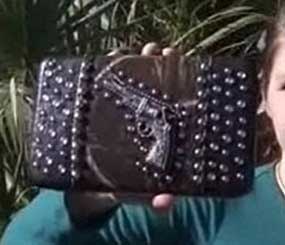 Gibbs was asked to check the bag or get rid of it, and she missed her flight home due to the delay.
TSA officials emphasized that the bag could be considered a replica weapon, which were prohibited in 2002.