Rapid Response: 3 key takeaways from the Las Vegas shooting
The complex, carefully coordinated attacks of 9/11 have been replaced with a new kind of violence that is significantly harder to detect
---
What Happened
An active shooter located on the 32nd floor of the Mandalay Bay Resort in Las Vegas opened fire on tens of thousands of concertgoers at the Route 91 Harvest Festival on Las Vegas Boulevard. The gunman, identified as Stephen Paddock, killed at least 58 people and wounded over 500 in the deadliest mass shooting in U.S. history. After breaching Paddock's hotel room, Las Vegas SWAT found he had died from a self-inflicted gunshot wound.
Why it's Significant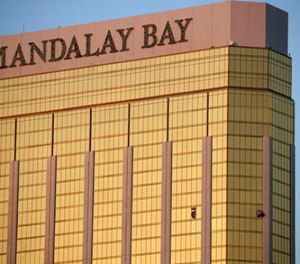 This tragedy reminds us that it's nearly impossible to prevent lone wolf attacks. The complex, carefully coordinated attacks of 9/11 – and their associated trails of bread crumbs - have been replaced with a new kind of violence that is significantly harder to detect.
Regardless of whether a nexus to terrorism exists, or the gunman simply went off the deep end, we must focus on prevention and encouraging private citizens to be "first reporters" who can improve law enforcement's ability to identify, investigate and potentially mitigate attacks or plots.
3 key Takeaways
1. Law enforcement trains extensively for active shooter response, but the criminal element keeps coming up with new ways to perpetrate mass killings.
Since the days of the Columbine High School shooting, law enforcement has trained extensively for rapid response to active shooter situations. Yet the idea of a gunman taking aim on a crowd from high ground outside an event's immediate perimeter reminds us that bad actors are always thinking outside of the box. They keep coming up with new ways to cause mass casualties. That thought should be appropriately haunting to us all.
By all accounts, Las Vegas law enforcement officers did their jobs exceptionally well. They responded quickly, identified the shooter's location and ran toward the gunfire, as they are trained to do. The Las Vegas Metro PD SWAT team was likely already on site to provide extra security for the music festival; our SWAT team in Dallas was often assigned to similar public events.
No one could have stopped this attack, no matter how good the security design principles were on the ground. Given the range, distance and cell phone video footage that has emerged so far, the shooter had fully automatic weapons and an arsenal of extra magazines. He likely transported the weapons into the hotel in a suitcase or a golf bag, so no one would have been the wiser. Hotel guest screening policies may be in for an overhaul after this tragedy, but screening every piece of luggage is not necessarily practical. Where does it end?
2. If it sounds like gunfire, move or take cover.
What can people on the ground do to save themselves? First, you have to recognize the sound of gunfire. People have described the sound as similar to fireworks, an engine backfire or even a helicopter. Sadly in this day and age, citizens should accept the fact that they may hear gunshots. Assume that's what the sound is, and move or take cover. Moving targets are harder to hit.
As a SWAT officer, when I set up on a structure, I always had cover and concealment. It's different when you're on the beat. During my patrol officer days, if I heard gunfire, I immediately sought cover. Cover is different from concealment; concealment simply hides you, while solid cover provides protection from the bullets. Concrete and steel are good options – think about engine blocks or the concrete jersey barriers that are typically set up for crowd control.
3. Private citizens should report suspicious or unusual activity.
We often find that 99 percent of the time after a shooting occurs, friends or neighbors come forward and say, "I always thought that person seemed strange."
It remains unknown whether Paddock showed signs of unusual behavior leading up to the shooting, but certain behaviors can serve as indicators to alert family, friends and employers that something is wrong.
The fact that someone is in crisis - such as divorce, financial troubles, or job loss – means nothing in and of itself.  However, a crisis taken in the context of factors such as increasing isolation, depression, aggression, abandonment of family and friends, or expressed hatred of an institution or individuals, may serve as a warning sign and require further attention.
Private citizens are law enforcement's first line of defense in identifying potential threats. We must remain vigilant on educating our communities not only on the important roles they can play, but how they can deliver intelligence information.
This heightened awareness, paired with resources such as the Department of Homeland Security's If You See Something, Say Something campaign and basic education, could provide the small edge necessary for law enforcement before an individual commits an act of violence.  DHS offers a wealth of free printable materials that inform private citizens, businesses, and other organizations of what they can do to keep their communities safe. Make sure your community is informed.
What's Next?
Soft targets are, and always will be, inherently vulnerable. The combination of large population densities, open public access and limited security barriers present grave challenges in a new era of active shooter and terrorist attacks.
It is impossible for law enforcement to prevent 100 percent of lone wolf attacks. However, the private sector can contribute significantly to the identification and mitigation of these threats by staying vigilant, sharing information and reporting suspicious or unusual activity.
One of our best opportunities for preventing future attacks lies in understanding the behavioral matrix of the active shooter. By the time individuals like Stephen Paddock commit such a heinous act, they often will have exhibited red flags or suspicious behaviors that when looked upon, in hindsight, provided clues to their intentions. 
LEARN MORE ABOUT active shooter PREPAREDNESS AND RESPONSE
Here are some other articles from Police1 on active shooter response.
Active shooter response: 10 key building search tips
How 5 active shooter incidents have changed police training
5 phases of the active shooter: A tactical reload
Considerations for teaching counter-sniper tactics
Arm yourself for an active shooter incident off duty
How to prepare your SWAT team for an Orlando-style attack
Breaching: Which option is best for your team?
The explosive option for SWAT teams
Mental health interventions in the aftermath of a mass casualty event
How cops can build resiliency before mass casualty incidents