Why public safety agencies must train together to improve MCI response
The 2018 IPSA Mass Casualty Incidents Training Symposium provides cross-disciplinary training for police, fire, EMS and telecommunicators
---
The International Public Safety Association is hosting a symposium focused on response to mass casualty incidents, scheduled for November 14–15 in Washington D.C.
This timely and important event offers a significant cross-disciplinary training opportunity for all public safety officials, from senior level executives to the first responders who arrive on scene. Distinguished experts from various public safety disciplines will share first-hand lessons identified from recent MCIs. Sessions include:
A Personal Story from the Dallas Police Ambush Attack: Improving Survival from Active Shooter Events – presented by Dr. Alexander Eastman, Dallas Police Department;
Lessons Learned from the Ghost Ship Warehouse Fire – presented by Battalion Chief James Bowron, Oakland (California) Fire Department;
The Martin Place Siege and the Birth of the Current Australian Medical Response to Terrorism – presented by Intensive Care Paramedic Oliver Ellis, Australian Tactical Officers Association;
Is Your Communications Center Ready for an MCI? – presented by Dave Mulholland, Administrator, Arlington (Virginia) Emergency Communications Center;
NFPA 3000: The New National Standard for Preparedness, Response, and Recovery to Active Shooter Hostile Events – presented by Commander Michael Snyder, Prince Georges (Maryland) County Police Department.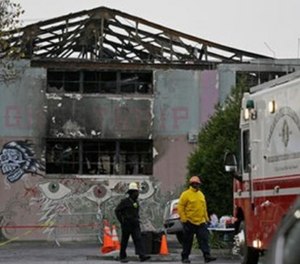 Need for MCI cross-disciplinary training, education
There is an urgent need to bring law enforcement officers, firefighters, EMS providers, 911 telecommunicators and allied emergency responders to discuss the impact of recent MCIs on policies and tactical response.
"We must be prepared to handle this dynamic and challenging incident. There is no better way to learn than from those who have responded to this type of incident. We can all talk about what our plan will be when an MCI occurs, but until we experience an event, that is all talk. This symposium brings together responders who have done more than talk about it, they lived it," said J. Scott Quirarte, Battalion Chief with Ventura County (California) Fire Department.
Todd Kerfoot, EMS Manager with REMSA echoed Quirarte's statement by adding, "The Fall 2018 IPSA Mass Casualty Incidents Symposium has amassed a phenomenal group of speakers. Their first-hand experiences to challenging incidents will help responders gain insight into how to respond and recover in similar situations."
John W. Thompson, Deputy Executive Director of the National Sheriffs' Association said, "There's nothing like being in a room of like-minded people across the disciplines of public safety. Your attendance is not only an investment in yourself, it is an investment in your agency and the community you serve."
Realities of the MCI response
When an MCI occurs, everyone responds. These critical incidents require an all hands-on-deck approach from every first responder discipline.
"As MCIs become more prolific, approaches to response and mitigation are significantly changing. Since many of these incidents result in multi-jurisdictional response, standardization of response tactics and techniques is critical. Agencies must ensure that they learn and utilize the best practices and lessons learned from prior events to effectively prepare for and efficiently respond to these incidents to maximize life-saving efforts," said David Mulholland, Administrator, Arlington (VA) Emergency Communications Center, Department of Public Safety Communications and Emergency Management.
Quirarte added that, "No other organization brings the different response disciplines together like IPSA. Their training conferences have presenters that represent the entire response community. And the attendees are equally diverse. We will only succeed when we all work together, learning, developing and planning the response. There are no better events for learning and networking."
Expected takeaways
IPSA's MCI Symposium is designed to maximize attendees' time, learning opportunities and networking with multiple first responders from around the nation and internationally.
Kerfoot had this to say about the upcoming event, "Attendees from across the country and internationally will interact throughout each day. The variety of disciplines and rank provide unique perspectives for everyone attending. There is a lot of time built in to networking, both at the symposium and afterward."
IPSA's upcoming MCI symposium occurs at a time when agencies are being incredibly challenged by these evolving threats. All departments must be afforded the opportunity to learn from these critical incidents, so they can continually advance their tactics and learn from these events.
Scott Edson, Chief, Los Angeles County Sheriff's Department Special Events Bureau (ret.) stated that, "This symposium brings presenters from different MCIs and different disciplines to teach us what went wrong and what went right. You should attend because if the MCI is in your backyard, what you learn from this symposium will save lives."