Calif. LEOs lose homes while responding to wildfire
Paradise Mayor Jody Jones confirmed on Sunday that 17 Paradise police officers lost their homes in the inferno
---
By Tony Bizjak, Kevin Valine and Ryan Sabalow
The Sacramento Bee
PARADISE, Calif. — As they worked this week to save lives, firefighters and police officers in Paradise had their own personal fear in the back of their minds:
Will my home survive the onslaught of the Camp Fire?
For many, the unfortunate answer is no. The massive wind-whipped fire that roared through Butte mountain towns and hamlets on Thursday appears to have spared little, including homes owned by Cal Fire crews, Paradise police and county sheriff's deputies.
Paradise Mayor Jody Jones confirmed on Sunday that 17 Paradise police officers lost their homes in the Thursday inferno.
Some 33 current and former firefighters have lost their homes as well, and fire officials say they fear that number could be much higher. Butte Sheriff Kory Honea estimated about 30 members of his department have lost their homes, too. Chico officials say eight of their police department employees also lost their homes.
"Everybody has a story to tell," he said.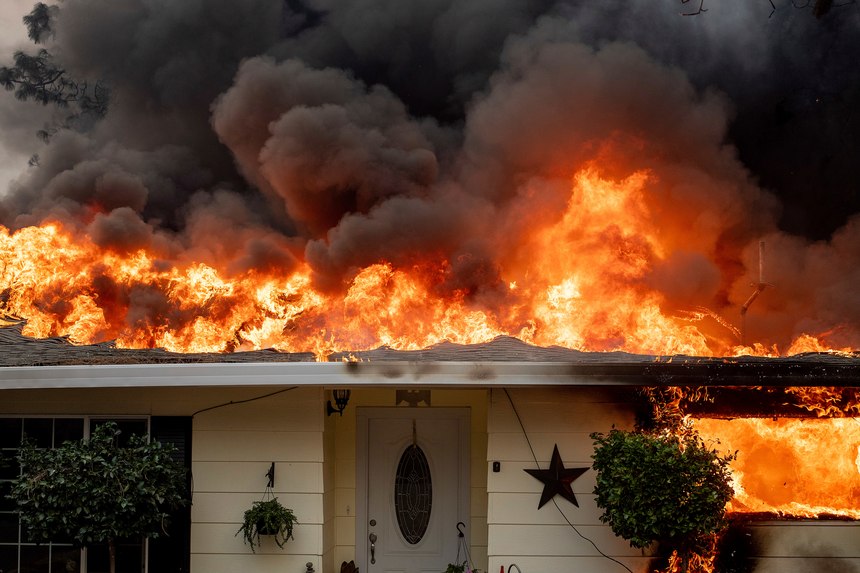 Paradise Mayor Jones, a retired Caltrans executive who has lived in Paradise for 14 years, found her house burned to the ground Friday when she returned to take a look. She had barely escaped the day before, saying she felt the heat of the flames around her, burning on both sides of Clark Road, one of two routes of out the secluded town.
"Every member of the town council lost their home," she said. "If you think about it too much, it can overwhelm you."
Butte College Police Chief Casey Carlson worked for 48 hours straight at the emergency command post, figuring - correctly, as it turned out - that his home of 10 years was gone too. Three members of his staff lost their homes as well.
"When we got the evacuation order, I went up to grab a few things, and houses (on the block) were on fire when I was leaving," he said. "You kind of have to accept it. You know you are helping folks, and that is what matters."
He's decided, he said, that possessions are not that important. "I have my kids, the family and the dog. That's what counts."
Ray Johnson, a Butte County volunteer fire captain, stopped his fire engine Sunday at the Skyway Memorial Park cemetery and snapped a photo of the American flag that was rippling in the breeze. The flag was spotless and untouched by the fire that scorched just about everything else for miles around.
His eyes heavy with exhaustion and his yellow firefighting clothing smudged with soot, he fought back tears as he described saving homes while his home in Paradise burned to the ground. He said he hoped the flag would inspire people to know that all is not lost.
"This means a lot to me that this flag is still here," he said.
"A lot of my friends' houses were lost. I'm really sad. I'm sad for my community, but there's hope. There's so much generosity in this country and in Paradise. There's hope. There's a lot of good people here."
The International Association of Fire Fighters has set up a help center in Chico for firefighters who lost homes, offering them financial assistance, help with filing insurance claims and emotional support.
IAFF state service representative Tim Aboudara Jr. said losing a home is devastating for everyone but it poses challenges for firefighters who find themselves in an unfamiliar role of needing help.
"Like so many people in these communities the loss is devastating to our members," said Aboudara, who is a Santa Rosa firefighter.
"And it's particularly insulting because they have spent so much time fighting fire and protecting homes and to be out on the line and doing their job and not know the status of their family and the status of their home is very difficult. But they never back down."
The IAFF is working with the California Professional Firefighters and the CDF Firefighters Benevolent Foundation in the effort to assist the firefighters and their families who have lost their homes.
Abourdara said the IAFF started this effort 13 months ago after the Santa Rosa fire and it's modeled on IAFF efforts done elsewhere in the United States. He said as many as 58 other firefighters may also have lost their homes to the Camp Fire.
Paradise mayor Jones estimated that 90 percent of the town's houses are now gone, and that about half of downtown has been destroyed.
Still standing are Town Hall, the high school, the hospital, two if the three fire stations, and two of the three grocery stores.
She said that she and everyone she has talked to plans to rebuild, despite the ongoing threat of fires.
"It doesn't matter where you live," she said. "You can be in harm's way anywhere. I never want to live my life in fear."
Sheriff Honea did not lose his home, he said. But the fire caused him some moments of personal worry. His daughter, Kassidy Honea, is a rookie Paradise police officer. She and he were directing evacuee traffic in Paradise Thursday when he got an emergency call and had to leave.
He hugged his daughter and said, "Kiddo, I love you," before heading off.
McClatchy-Tribune News Service