La. officer dies of COVID-19
Officer Kejuane Bates was a pastor and school resource officer known for loving music and his community
---
Scott Hawkins
The Democrat
NATCHEZ, Miss. — COVID-19 has claimed the life of a Natchez pastor who also was a Vidalia Police officer who left a lasting impression on practically everyone he came into contact with, friends said.
Adams County Coroner James Lee said Kejuane Bates, who died Wednesday, was the second recorded COVID-19 death at Merit Health Natchez.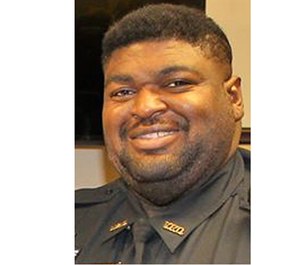 Lee said Bates, 36, lived in Vidalia where he worked as a police officer, serving as a DARE officer and school resources officer.
Bates also pastored the Forest Aid Baptist Church on Lower Woodville Road in Natchez.
The Mississippi State Department of Health and the Louisiana Department of Health classify COVID-19 deaths by the victim's record of residence, so Bates' death will be recorded in Louisiana, even though he died in Natchez where he grew up.
"(On Wednesday) we lost a family member," said Vidalia Police Chief Joey Merrill. "He was a son, husband, father, police officer, pastor, DARE officer, coach, mentor and my friend. There are no words to take away the pain that our family and his family are going through right now. It has always been my job as chief to build morale and make everyone feel better with comforting words and trying to solve whatever problems the officers and the public may have. I wish I could do that now, but I'm at a loss for words of comfort, for I am hurting as well."
Merrill said he has faith that Bates' death is part of God's plan.
"Officer Kejuane Bates was a man of God and all I can think of is that this is God's plan," Merrill said. "Kejuane is rejoicing in Heaven right now. I can only believe this is part of God's plan for our brother in blue and that this was no mistake. Let's all take this and learn something from it. As many people that knew Kejuane, everyone had different positive experiences with him. I'm sure everyone will take something away from this and learn what God has to offer. We will continue to hold the line and be there for you. Keep us and Kejuane's family in your prayers, stay safe, well and strong and God bless. We will get through this together as a nation and community."
Merrill asked the community to keep Bates' family, including his wife, Chelsea, and daughter, Madison, in their prayers.
Lee said he was good friends with Bates and the two hosted a joint revival together each year.
"I have known pastor Bates a long time," Lee said. "He was 'a gentle giant.' Early in my ministry I pastored him and his family."
Lee said anyone who met Bates would never forget him.
"He (Bates) was 6 foot 2 and about 350 pounds and closed his eyes when he laughed," Lee said. "He became a minister and was currently the pastor of Forest Aid Baptist Church. Our community has lost a great man of God. He loved God and his family very much. He will be missed here but with his beautiful voice he will be singing on the other side. Rest my brother."
Carmen Drake said she attends Forest Aid Baptist Church where Bates had been the pastor for the past six years.
"He always made an impact wherever he went," Drake said. "He had a special love for children. He could deliver the Gospel to them in a way that was so relatable and he inspired young and old to get to new levels in Christ and understanding his teachings. He was a really good minister and especially a teacher. He was a beautiful singer, just a great person."
Drake said Bates also was a big Alcorn State University fan and particularly loved the band and football.
"I talked to his wife … and said is there anything you want to say, and she said, 'Even though it is hard, he is at peace,' because she knows that his soul is saved," Drake said, adding that Bates' wife said she was not ready to talk to the media about the loss.
Bates also served as the offensive line coach for the Vidalia High School football team.
"He played high school football at Natchez," said Michael Norris head football coach at Vidalia High School. "As a coach, especially in high school, the No. 1 thing that we do is impact the lives of the kids that we coach. Nobody did that better than Kejuane did. Every kid he touched or he came in contact with knew that he loved them and he would do anything for them. Some of the students have said that he gave them pep talks when they needed it and also put them in their place when they needed it.
Serving your fellow man is what we should be doing and he was a great example of that. It definitely puts a perspective on the whole thing…. As a coach, it reminds us that the impact that we have on these kids' lives is what matters, not what happens on the field."
Whest Shirley, superintendent of Concordia Parish Schools, said Bates was a school resource officer in the Concordia Parish schools.
"He worked for me when I was at Vidalia Junior High," Shirley said. "Then he was moved to the high school and the last two years he has been at Vidalia Upper Elementary School as a school resource officer."
Shirley said Bates was the first person on campus each morning, directing traffic beginning at 7:15 a.m.
"Then he worked at the school during the day patrolling the halls," Shirley said. "He directed traffic for parent pickup and bus line pickup after school around 3:30-3:45."
Away from school, Shirley also noted Bates' talents.
"He was a magnificent singer," Shirley said. "The first time I heard him sing was at the junior high. He took the microphone and sang the national anthem. I just couldn't believe the voice that was coming out of him either. This big burley guy can sing like an angel. He was also our band director for a short period of time when we were in between band directors at Vidalia High School. He has worn a lot of hats in Concordia Parish."
Lee said he wants people to take the COVID-19 pandemic seriously.
"I want Adams County to know that this virus is no joke," Lee said. "My heart goes out to this young man's family."
Friends and colleagues of Bates took to social media posting tributes to Bates Wednesday night after learning of his death to COVID-19.
"It is with much sadness and a heavy heart that I report Vidalia has lost one of its first to the Coronavirus," wrote Buz Craft, mayor of Vidalia in a social media post. "Not only was Kejuane Bates an employee of our Vidalia Police Department he was instrumental in our community as a pastor and mentor to so many. Our prayers are with his family, congregation, fellow workers, students and friends during this time. He will be missed. It would be his wish that we exhibit the life he has lived the faith we share in Jesus Christ. Please let us have hope that his passing will in fact save lives. Kejuane is singing tonight in heaven."
McClatchy-Tribune News Service