Suspect in Wash. cop shooting dies at hospital
During a routine check on Thursday, corrections deputies saw that James T. Sapp, 47, was attempting to kill himself
---
By Tom Hallman Jr.
The Oregonian
CLARK COUNTY, Wash. — A suspect in a shooting that critically wounded a Vancouver police officer in June, died Friday, the result of a suicide attempt Thursday inside his cell in the Clark County Jail.
During a routine check on Thursday, corrections deputies saw that James T. Sapp, 47, was attempting to kill himself, the Clark County Sheriff's Office reported. Deputies intervened, and medical staff provided emergency medical care until the Vancouver Fire Department arrived.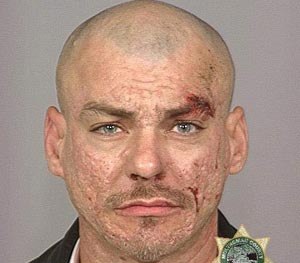 Sapp was taken to a local hospital where he died Friday.
On June 30, Vancouver motorcycle officer Dustin Goudschaal was shot seven times during a traffic stop near Northeast 162nd Avenue and Northeast 34th Street while pulling over a suspected stolen vehicle. His ballistic vest saved his life.
Sapp was booked into jail on accusations of first-degree attempted murder, first-degree robbery and second-degree possession of a firearm. Sapp, investigators said, is affiliated with a white supremacist group.
Authorities said the death was under investigation, and the method by which Sapp tried killing himself will not be released until the investigation ends.
On Friday his family authorized deputies to release this statement:
"The family of Mr. Sapp wishes to express their concern and sorrow for the suffering and injuries inflicted on Vancouver Police Officer Dustin Goudschaal and the members of the Vancouver Police Department. The family asks for privacy as they work through this difficult time."
Copyright 2014 The Oregonian
McClatchy-Tribune News Service