DOJ announces National Public Safety partnership
The Justice Department will help local authorities study crime patterns and create specially tailored plans to reduce gang and gun violence
---
By Jason Nevel
The State Journal-Register
WASHINGTON — Springfield Police Chief Kenny Winslow said Tuesday he is taking a wait-and-see approach about how the Justice Department will help his agency decrease violent crime in the capital city.
Springfield was among 12 cities the Justice Department selected to help develop long-term strategies to decrease violent crime.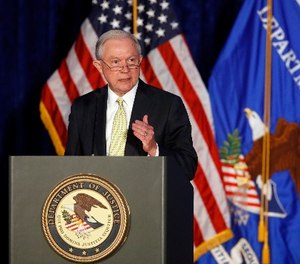 While attending a law enforcement gathering in Bethesda, Maryland, where the initiative was announced, Winslow said one surprising detail he learned was that the federal assistance program does not include any funds.
"We're going to leave here with a lot of questions, and we're going to have to do some follow up to see how (the Justice Department) will assist in our efforts," Winslow said.
Attorney General Jeff Sessions made the announcement while speaking at the law enforcement gathering.
The Justice Department, Sessions said, will help local authorities study crime patterns and create specially tailored plans to reduce gang and gun violence. Federal authorities will also help cities find "data-driven, evidence-based strategies" that can be measured over time, the attorney general said.
"This program will help communities suffering from serious violent crime problems to build up their capacity to fight crime," Sessions said.
According to Winslow, Springfield might have been chosen because it is piloting its own deterrence plan, which, among other things, attempts to bring social service agencies and the school district into the fold.
"We are trying to look at what are the drivers and who are drivers of violent crime and focus our efforts on those drivers," he said.
Of the 12 cities selected, Springfield has the second-smallest population, according to 2016 estimates from the U.S. Census. Springfield's 115,715 is ahead of Jackson, Tennessee's 67,005. The biggest city in the group is Houston at more than 2.3 million residents.
The other cities are: Birmingham, Alabama; Indianapolis, Indiana; Memphis, Tennessee; Toledo, Ohio; Baton Rouge, Louisiana; Buffalo, New York; Cincinnati, Ohio; Kansas City, Missouri; and Lansing, Michigan.
The Justice Department said it chose cities that have higher-than-average rates of violence and showed receptiveness to receiving assistance. Other jurisdictions could be targeted later for the program, called the National Public Safety Partnership.
In addition to developing strategies to cut crime rates, the Justice Department says it will offer "coaching" to local officials on how to form sustainable coordination with federal law enforcement and prosecutors.
Sessions has repeatedly said that helping cities combat violence is a top priority for the Justice Department, and he's called on the nation's federal prosecutors to pursue tougher punishments against most crime suspects.
Tuesday's "crime summit" gathered officials from across the country to discuss crime-lowering strategies.
— The Associated Press contributed to this report. 
———
©2017 The State Journal-Register, Springfield, Ill.
McClatchy-Tribune News Service