Police: Austin shooter harbored extremist views
Man who shot up downtown Austin and tried to burn the Mexican Consulate appeared to be planning a broader attack
---
By Jim Vertuno
Associated Press
AUSTIN, Texas — A Texas man who shot up downtown Austin buildings and tried to the burn the Mexican Consulate before he was gunned down by police harbored extremist right-wing views and appeared to be planning a broader attack against churches and government facilities, law enforcement officials said Monday.
Larry McQuilliams had multiple weapons, hundreds of rounds of ammunition, a water supply and a map of 34 downtown buildings that likely were potential targets in his pre-dawn rampage the day after Thanksgiving, Austin Police Chief Art Acevedo said.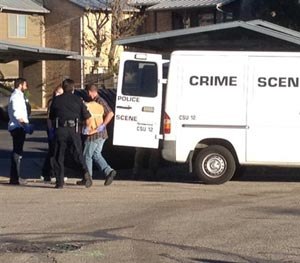 McQuilliams, 49, started his attack on the consulate building and a federal courthouse. He was killed with by a single shot to the chest from a police officer as he shot at police headquarters, Acevedo said. McQuilliams fired about 200 rounds, but no one else was killed or injured.
"The one mistake he made was he came to the Austin police station and we were able to take him out pretty quickly," Acevedo said, describing McQuilliams, a convicted felon, as a "homegrown, American extremist" and "terrorist."
McQuilliams' had rented a van that was parked outside the police station and was loaded with ammunition and propone fuel canisters typically used for camping. McQuilliams tried to use fireworks with the canisters to make crude but ineffective bombs and used some at the Mexican Consulate, causing a fire that was quickly extinguished.
The Associated Press observed investigators removing dozens more fuel canisters from McQuilliams' apartment the day after the shooting.
Also in the van was a copy of "Vigilantes of Christendom," a 1990 book associated with the Christian Identity movement known as the Phineas Priesthood, which espouses anti-Semitic and racist views. Inside the book was a handwritten note that referred to McQuilliams as a "priest in the fight against anti-God people," Acevedo said.
Investigators said McQuilliams left no note describing a specific motive, why he picked his targets or why he launched his attack when he did. Written in marker on his chest were the words, "Let me die," Acevedo said.
City and federal investigators say they are confident McQuilliams acted alone.
"What keeps me up at night is these guys," Acevedo said. "The lone wolf."
"No one helped him. There's not a larger conspiracy at all," said Christopher Combs, FBI special agent in charge of the San Antonio division, which includes Austin.
Acevedo said witnesses mostly described McQuilliams as a loner but none saw him as a threat for violence. Combs also noted that some people who knew McQuilliams told investigators he'd been upset that he couldn't find a job and believed immigrants were given more services than he was.
McQuilliams had served about seven years in federal prison for bank robbery and was released in 2000. As a convicted felon, he could not legally possess the firearms he used in his attack. Acevedo said investigators are still trying to determine how he got them.
Copyright 2014 The Associated Press