The federal government's coronavirus response: Implications for emergency responders
Public safety leaders must consider the larger policy implications inherent in determining how these new laws and guidance apply to personnel
---
By Tory Summey and Mac McCarley
In the span of a few weeks, the federal government has made sweeping changes to employment laws and regulations that impact law enforcement agencies and other units of local government.
First, Congress expanded paid leave through the Families First Coronavirus Response Act in mid-March. Next, the U.S. Department of Labor, the Occupational Safety and Health Administration and the Equal Employment Opportunity Commission have each been providing regular guidance to employers.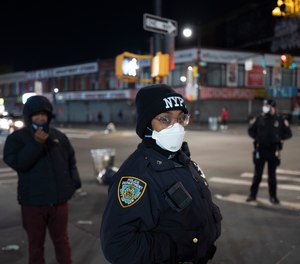 With many of these changes, there are distinctions in how they apply to emergency responders and health care providers. It is important for local decision-makers to understand these distinctions – and to carefully consider the larger policy implications inherent in determining how these new laws and guidance apply to emergency responders.
Families First Coronavirus Response Act (FFCRA)
There are two buckets of paid leave that Congress created under the FFCRA:
1. An expansion of what was previously available under the Family and Medical Leave Act (FMLA);
2. Emergency paid sick leave.
Both types of leave apply to local governments, although we'll explain how exceptions come into play for law enforcement agencies.
Expanded FMLA provides up to 12 weeks of leave for employees unable to work while caring for a son or daughter under age 18 whose school or childcare provider closed. Anyone who's been employed for 30 days is eligible. The first 10 days of expanded FMLA leave are unpaid but the rest is paid at two-thirds of the employee's regular rate. Moreover, an employee can elect to use any paid leave available (including emergency paid sick leave) to still get paid during those first 10 days of expanded FMLA leave.
The emergency paid sick leave component provides the equivalent of 2 weeks of paid leave to employees – in addition to what they already get from any existing policies – if they need leave because of quarantine, self-isolation advised by a health care provider, having symptoms of COVID-19, caring for individual quarantined/self-isolated, taking care of a child if school/child care closed, or another substantially similar condition specified by the federal government. Notably, taking care of a child if school/child care closed is the same criteria for expanded FMLA leave.
There are two significant exceptions to the FFCRA that are particularly relevant to law enforcement agencies, local health departments and potentially other units of local government. The FFCRA provides that employers of "emergency responders" and "health care providers" may exclude those employees from using FFCRA paid leave. The U.S. Department of Labor has clarified that these exceptions apply to all of the following types of employees:
Law enforcement officers
Corrections personnel
Firefighters
Emergency medical services personnel
911 operators
Public health personnel
Public works personnel
Military personnel
People with skills or training in operating specialized equipment or other skills needed to provide aid in a declared emergency
The reasoning behind the exclusion is to ensure the availability of law enforcement and other critical services during this time of unprecedented national emergency and to mitigate the impact this leave would have on municipal budgets. There is a lot of flexibility in how law enforcement agencies exercise discretion in asserting the emergency responder exception. The exception can be asserted on a case-by-case basis or as a blanket exception for everyone who fits the criteria. Eligible employers can also decide who is excluded from the leave one week and then change that the next week to meet staffing needs.
That said, some local decision-makers may determine there is a difference between what they can do under the law and what they should do. Amid the current pandemic, emergency responders are viewed the same way as they were after 9/11 – as heroes on the front lines. Therefore, before deciding to exclude emergency responders from these new leave benefits, decision-makers should consider the potential impact on employee morale and public relations.
With careful consideration, decision-makers will have to balance these issues with the need to maintain the staffing necessary to serve and protect members of the community. Regardless of the ultimate decision, transparent communication with emergency responders and the public is critical.
Occupational Safety and Health Administration (OSHA) Guidance on Recording Workplace Injuries
Another important requirement for law enforcement agencies to pay attention to is whether an employee contracting COVID-19 counts as a workplace illness that must be reported to OSHA. In mid-April, OSHA offered guidance on that question and explained its enforcement priorities.
The short answer is that if law enforcement officers or other emergency responders are infected with COVID-19 as a result of doing their job, that must be reported. OSHA guidance has specifically explained that "[e]mployers of workers in the healthcare industry, emergency response organizations (e.g., emergency medical, firefighting, and law enforcement services), and correctional institutions must continue to make work-relatedness determinations pursuant to" OSHA's standard rules.
For other units of local government that do not fit into these categories, OSHA said it would be difficult to determine whether an employee's infection occurred in the workplace if COVID-19 is spreading throughout the community. In those cases, local governments would only need to record the illness if there is clear evidence of its connection to work, such as "a number of cases developing among workers who work closely together."
From an enforcement perspective, OSHA has told its inspectors to prioritize workplaces with a high risk of exposure such as "hospitals treating suspected and/or confirmed COVID-19 patients, nursing homes, emergency medical centers, emergency response facilities, settings where home care or hospice care are provided, settings that handle human remains, biomedical laboratories, including clinical laboratories, and medical transport." In other words, emergency responders should be aware that their workplaces are more likely to be targets of enforcement activity.
Equal Employment Opportunity Commission (EEOC) Guidance on Discrimination Concerns 
To ensure the safety of their employees, law enforcement agencies are looking to take as many steps as possible to prevent COVID-19 from spreading among their employees. The EEOC recently released updated guidance on how employers can balance the need to protect their employees with the requirements of relevant anti-discrimination laws, including the Americans with Disabilities Act.
Generally speaking, the EEOC has clarified which efforts to prevent workplace transmission do not violate the Americans with Disabilities Act's limitations on disability-related inquiries and employee medical examinations. For example, employers are permitted to check employees' temperatures and ask if they are experiencing symptoms "such as fever, chills, cough, shortness of breath, or sore throat." Of course, employers must still maintain the confidentiality of any medical information that they acquire.
The EEOC also answered a question that some law enforcement agencies have been asking regarding employees with post-traumatic stress disorder: Are those employees entitled to reasonable accommodations if the pandemic exacerbates their condition? The short answer is yes, such employees may be entitled to a reasonable accommodation. The EEOC said that employers can "ask questions to determine whether the condition is a disability; discuss with the employee how the requested accommodation would assist him and enable him to keep working; explore alternative accommodations that may effectively meet his needs; and request medical documentation if needed."
The EEOC also reminded employers of their obligation to continue enforcing anti-harassment rules, including by "explicitly communicating to the workforce that fear of the COVID-19 pandemic should not be misdirected against individuals because of a protected characteristic" such as national origin or race.
Final Note
Federal regulators have been releasing new guidance on the topics above and other areas impacting law enforcement agencies and other local government units almost weekly. (This article was based on updates as of April 22.) The federal agencies have indicated that much of this guidance is "interim" as the pandemic and its effects continue to evolve. It is critical for local decision-makers to stay up to date as the guidance changes and to carefully consider the policy decisions they face as a result.
---
About the authors
Tory Summey and Mac McCarley are attorneys at Parker Poe in Charlotte. They can be reached at torysummey@parkerpoe.com and macmccarley@parkerpoe.com.