Parkland survivors file lawsuit against LEOs, other officials
The lawsuit filed by 15 students alleges that deputies violated the constitutional rights of the survivors of the school massacre by failing to stop the gunman
---
By Rafael Olmeda
Sun Sentinel
FORT LAUDERDALE, Fla. — Broward deputies at Marjory Stoneman Douglas High School violated the constitutional rights of the survivors of February's school massacre by failing to stop Nikolas Cruz when he showed up on campus with murder on his mind, according to a federal lawsuit filed Wednesday by students.
The 15 Marjory Stoneman Douglas High students, who were on campus during the deadly mass shooting, were not physically injured but suffered psychological trauma and were either inside classrooms in the 1200 building where classmates were killed or were on school grounds, said Attorney Solomon Radner.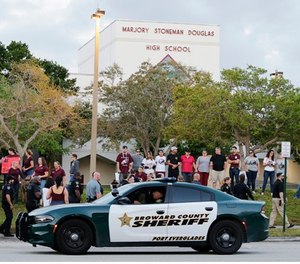 The suit names as defendants: Broward Sheriff Scott Israel; BSO Capt. Jan Jordan, who oversaw operations during the shooting; Andrew Medina, a school monitor who spotted the gunman walking toward the 1200 building; and Broward Superintendent Robert Runcie.
The lawsuit also names retired school resource officer Scot Peterson, who was on the scene but did not enter the building when the shooting began.
A teary student who recently graduated, Audrey Diaz, said she had been looking forward to senior events such as prom and grad bash that those murdered did not have a chance to enjoy.
"Some of my friends who were killed that day weren't able to go to those events," Diaz, 18, said during a news conference. "We thought we were safe at school and would always be protected."
The plaintiffs are all students who are referred to by their initials in the suit, which doesn't identify Cruz by name. He is referred to simply as "the Shooter."
A student who was searched and questioned hours before the shooting is accusing Peterson of illegally searching his backpack and questioning why he had so much money on him. The account stands in contrast to Peterson's inaction while the shooting was taking place hours later, according to the suit.
Peterson was referred to as "Rod" by fellow law enforcement officers, according to the suit. The derogatory term is an acronym meaning "retired on-duty," the suit claims.
Radner said police officers are generally regarded as heroes for putting their lives on the line, but some law enforcement officials in Parkland were ineffective during the massacre.
"This is a shot at specific law enforcement officials who failed the students on that particular day," he said. "Law enforcement choked and the goal of this lawsuit is to ensure that this never happens again. If they choke and they cause people to die, they will have to face the music."
Attorney Russell Williams, who represents Medina on other issues but has not yet been hired in connection with the new lawsuit, said Medina fulfilled his legal responsibilities according to his job description.
"He's immune from prosecution, including civil action, as an individual unless the conduct at issue was committed with ill will, hatred, spite or evil intent," Williams said. "There's no way any expert is going to get on the stand and testify to that."
The same immunity would apply to Peterson, said Williams. Efforts to reach Peterson's attorney Wednesday were unsuccessful.
©2018 the Sun Sentinel (Fort Lauderdale, Fla.)
McClatchy-Tribune News Service