La. officer arrested for obstruction of justice
Department arrested one of their own during investigation of the fatal shooting of another officer
---
By Rebecca Santana and Kevin McGill
Associated Press
NEW ORLEANS — New Orleans police have arrested one of their own for obstruction of justice as they investigate last month's shooting death of another police officer.
In a Monday news release, the police accused Wardell Johnson of shoddy police work when he arrested Travis Boys on June 20, in connection with an assault case. Hours later, authorities say, Boys shot and killed a New Orleans police officer.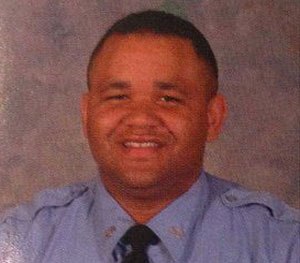 Authorities say while Boys was being transported to central lockup by Officer Daryle Holloway, he managed to move his cuffed hands from his back to his front, produce a gun, shoot Holloway and then crawl from the back of the police vehicle into the front and escape. He then eluded police for 24 hours before eventually being arrested the next day.
Police have been investigating where Boys got the gun and how he eluded police for so long. During their investigation, they said they uncovered evidence of sloppy police work by Johnson. Johnson and his partner were the ones who initially arrested Boys in the assault case. Johnson's partner has not been arrested.
Police said Johnson tried to cover up the fact that he failed to process evidence at the scene of Boys' earlier arrest including a spent shell casing and a box of bullets.
Johnson deliberately tried to leave behind a .40-caliber shell casing at the scene of Boys' initial arrest and also recovered a box of unused .40- caliber bullets at the scene that he did not process as evidence, police said. Police earlier said when Boys was arrested that a .40-caliber Smith & Wesson was found at the scene of Holloway's shooting and was believed to be the weapon used to shoot Holloway.
After being interviewed Monday by police, the police said Johnson was later seen throwing the bullets away while driving through a New Orleans neighborhood. He was arrested later Monday on one count of obstruction of justice, one count of malfeasance in office and one count of theft.
"I am extremely disgusted and outraged by the lack of professionalism and integrity shown by this officer based on the evidence we discovered today," said New Orleans police chief Michael Harrison. "This is an example of sloppy police work with a clear intent to cover it up, and it will not stand."
Police cautioned that there was no suggestion that Johnson was connected to Holloway's death, only to the investigation that directly preceded it.
"We have no evidence that leads us to believe that the officers knew Boys or did anything to help him as part of the investigation," said police spokesman Tyler Gamble.
Earlier Monday, Boys pleaded not guilty to killing Holloway during a court appearance. Boys wore a black bulletproof vest over orange coveralls and was flanked by two Orleans Parish sheriff's deputies as he sat and waited for his turn to enter a plea.
Boys did not speak during the brief hearing.
District Attorney Leon Cannizzaro has rarely asked for the death penalty since taking office in 2008 but is pushing for the death penalty in this case.
Following Holloway's shooting, there has been an outpouring of support for an officer who was widely praised for his sense of humor and connections with the community.
Copyright 2015 The Associated Press