Video: NC suspect tries to run over woman in parking lot, rams police car
Officers tried to stop the man, but he rammed one of their cruisers before attempting to flee
---
WGHP-TV, Greensboro
WINSTON-SALEM, NC — Video obtained by FOX8 shows a man trying to run a woman over in the parking lot of a Winston-Salem beauty store, before ramming a police vehicle and driving into a neighborhood as officers give chase.
Investigators say the incident started with an 'unknown trouble' call at 1232 Waughtown St., with a report of a dispute between a man and a woman.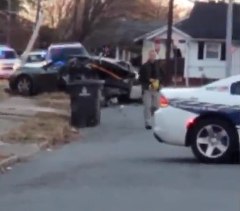 Surveillance video from inside Ego Beauty Supply shows the woman running into the store, telling employees a man was chasing her. The man walks in seconds later.
After the two leave the store, video shows the man try to run the woman over with a black Ford Mustang, missing her by inches.
Officers arrived and tried to stop the man, but he rammed one of their cruisers, then took off down Longview Drive with officers following.
Within a minute, the suspect, who police later identified as 58-year-old Archie Lamont Nash, crashed into two parked vehicles and a power pole.
Officers say Nash was apprehended and treated at a hospital for minor injuries due to the crash.
Charges against Nash are pending.
McClatchy-Tribune News Service