Fla. man high on Xanax fires shotgun at cruiser, arrested
An anonymous tip led officers to suspect, who told investigators he was high on Xanax and marijuana when he shot the patrol car with a 10-gauge shotgun
---
By Susan Jacobson
Orlando Sentinel
APOPKA, Fla. — A 20-year-old Apopka man was arrested Tuesday after police said he admitted shooting up an Apopka police car at a 7-Eleven.
An anonymous tip led officers to Tyler Endsley, who told investigators he was high on Xanax and marijuana when he shot the patrol car with a 10-gauge shotgun about 4 a.m. Sunday, department spokesman Officer Ed Chittenden said.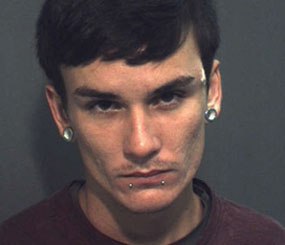 Police arrested Endsley on charges of attempted armed robbery, use of a firearm during a felony, displaying a firearm in public and criminal mischief. They say he planned to rob the store at 1117 E. Semoran Blvd.
Security video shows someone wearing a hoodie and carrying a shotgun pacing in front of the convenience store and looking inside shortly before an Apopka police officer arrived to get coffee.
The officer heard a shot and, went back outside and found that his cruiser had been struck with shotgun pellets.
At Endsley's home, officers found the shotgun and clothes they say he was wearing that night, Chittenden said.
Endsley pleaded no contest last year to possession of drug paraphernalia and possession of marijuana in two separate cases.
Copyright 2014 The Orlando Sentinel
McClatchy-Tribune News Service