2011 gifts for the police geek
'Tis better to give than to receive, but receiving is okay, too
---
It's that time again. Christmas, Chanukah, Kwaanza, Festivus, whatever you call it, you have to buy gifts for people and hope to get some in return. I've reviewed dozens of products during 2011, and seen several possible gifts for the police person on your list. If you don't have such a police person, feel free to print this and leave it where your significant other can find it.
The Glif is a gadget for the iPhone 4 and 4S that serves as a prop to hold the phone upright in either the portrait or landscape configuration, and will also mount on a tripod so the phone can be used for stationary still or video photography. It's great for FaceTime calls, watching movies, or reading text on the phone while eating or when you otherwise have your hands occupied. $20.
The EvilTron is a diabolical gadget to annoy the person of your choice. About the size of three stacked quarters, it has a magnetic back and an onboard coin cell battery that will run it for over a month. Plant it on some out-of-the-way metal surface and turn it on. At irregular intervals, it will emit a choice of five very brief sounds, or you can set it to randomly switch between them. The sounds are too short to allow the victim to locate the gadget easily. A gift that keeps on giving. Also check out the similar Annoy-A-Tron. $10.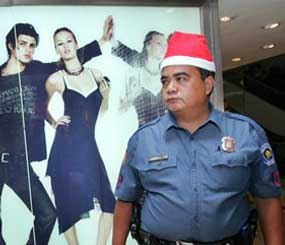 A hand lens is useful for those of us whose near vision is going to hell, but people with young eyes will also use it to inspect latent prints and other small items. It's small enough to go in your pocket and cheap enough that you don't cry if you lose it. $7.
An external battery pack is a great gift for anyone who uses portable electronics. These will extend the battery life of a cell phone or portable camera and recharge from a USB port or an AC plug. There are lots of these — shop around. $13.50.
Because battery power can be so unreliable, it's a blessing to be able to charge devices in the car. Portable electronics manufacturers are slowly standardizing on the mini- and micro-USB plugs and jacks for recharging and connecting to computers. This shorty USB cable has both mini- and micro-USB male plugs. Paired with this 2.1 amp car charger, you can even recharge an iPad (which pulls more juice than most USB ports can handle). $3/$14.60.
A Smartphone privacy screen cover keeps prying eyes from your phone's display. There are models for most every Smartphone. $2.50.
Multitools have evolved way past the old standard Leatherman (which still makes quality stuff). You may not use these every day, but when you do use it, you'll sing the praises of the person who got it for you. Buy name-brand, quality tools, as the cheap ones will break. $20 and up.
Eye-Fi memory cards or record the photos taken with a digital camera as with any other SD card, and then wirelessly upload them to the web or to the computer of your choice as soon as you are in range. You'll never again have to remove the memory card or connect a transfer cable. $50 and up.
Flash drives now hold as much data as a hard drive of a few years ago, and they're inexpensive. They're handy for transferring files between computers. Get one without a removable cap, as those get lost too easily. This one has built-in encryption, just in case you lose it. Shop around for the best price. These are often steeply discounted. $5 and up.
I frequently hear complaints about police utility clothing. Pants rip, shirts shrink, and even the name brands aren't what they used to be. Duluth Trading Co. sells clothes for the working man or woman. They aren't a "police" company, but much of their gear will work just fine for law enforcement wear. I have a stack of their "Longtail T" shirts and polo shirts that I've been wearing for five years. They haven't worn out, and they haven't shrunk. They have similar Longtail turtlenecks and mock turtlenecks, and "Fire Hose Work Pants" with big belt loops and cargo pockets. Their stuff isn't expensive, and they have a 100 percent "simple, unconditional, no nonsense, no bull" guarantee they really mean. I've returned a few items that weren't what I expected, and every transaction was smooth.
That's my list for this year. If you have any suggestions for additions or other comments, write them on the back of a 64GB iPad 2 and send them to me care of Police1, clearly marked "NOT FOR DOUG WYLLIE."
Merry Christmas.