National Police Week: Honor the fallen by training the living
As you honor those who have paid with their lives, challenge yourself by examining your actions and where you are vulnerable
---
National Police Week 2021 will be held from October 13-17. This annual event pays special recognition to those law enforcement officers who have lost their lives in the line of duty for the safety and protection of others.
As a result of a resolution signed into law by President Kennedy, our nation sets aside a period of time each year known as Police Week. For those who wear the badge and their families, it's a very special time. Ceremonies take place across the country, with the largest taking place in our nation's capital.
I've been to the National Memorial countless times, but when you go during Police Week, it's different. You can't help but notice the flowers, photos, mementos and the personal notes, some of which will bring tears to the eyes of even the most veteran officer.
For me, the most sobering time is when the buses filled with survivors begin to arrive for the candlelight ceremony – bus after bus filled with families who all have one thing in common. They have come to honor their loved one who died in the line of duty. It's a trip that none of them wanted or expected to make and one that they will never forget.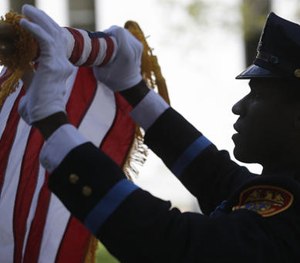 Many are visibly stunned as they are escorted through a long line of officers standing at attention in dress uniforms. Some have lost the person they thought would be their lifetime companion. Some are parents who have lost a son or daughter. Others are not yet teenagers and are there for their mom or dad. I've often felt guilty for being grateful that my family never had to make that walk. No family should.
A Trend Toward Safety
A total of 128 officers were lost in line-of-duty incidents in 2015. I came into law enforcement in 1974 when the number of officers lost totaled 280 – well over double the loss in 2015. Why the dramatic change? The awful numbers seen during the 70s were driven down sharply by a combination of factors. Some of the most significant were:
Body armor became practical and its use began spreading across the country;
Law enforcement personnel began embracing a sense of tactical awareness brought about by improved training and the realization that street encounters could be deadly;
There were major advancements in emergency medicine, including paramedics who could deliver advanced life support in the field.
Those who are involved in Below 100 know we can continue to drive down line-of-duty losses by embracing common sense officer safety. Below 100 began in 2011 and hit full stride into 2012. Since that time, a dedicated group of volunteer (yes, truly volunteer) trainers have presented Below 100 training that centers on areas under an officer's control, areas that have been disproportionately responsible for taking way too many lives and ending countless careers.
Below 100 is not about a specific number. It's about every officer, regardless of rank or assignment, accepting individual and collective responsibility for officer safety. The cornerstone principle is "predictable is preventable."
Simple, Not Easy
This straightforward concept is deceptively simple, but simple does not equate to being easy. Below 100 is accomplishing what many thought was undoable: changing police culture. Those who are involved in Below 100 efforts are absolutely convinced that we can continue to send more officers home to their families instead of sending their bodies to a mortuary. We do not have to accept the level of loss that we have experienced in the past.
Police Week is a time to remember the fallen. However, every one of those officers would tell you to not repeat their mistakes. In other words, we must honor the fallen by training the living! Not all of our line-of-duty deaths are preventable, but when you objectively look at our losses, there are clearly areas where we can do so much better. Please, for the sake of your family, remember the principles of Below 100:
Wear your seat belt. (We lose officers every year in crashes that should have been survivable!)
Wear your vest. (We continue to lose officers in incidents that would have been survivable with body armor.)
Watch your speed. (Half of fatal police crashes are single-vehicle and the most common cause is speed too fast for conditions.)
WIN! – What's Important Now? (Officers who lose focus or fail to prioritize often pay with their life.)
Remember: Complacency kills! (It's the most insidious of all threats because it leaves you open to everything that can go wrong.)
Don't do it for you
As you honor those who have paid with their lives, challenge yourself by examining your actions and where you are vulnerable. Do you need to get in shape, increase your awareness during traffic stops or start wearing your seat belt/armor? Take a look in the mirror before you go in the field. What does your appearance tell the bad guy about you? Command presence or complacent putz? Remember: complacency kills!
Whether it is fitness, driving, tactics – address it now. Start by writing it down and sharing it with someone. Doing so will dramatically increase the chance of actually making the change. Take it a step further and send yourself a future-dated email that reminds you of your commitment.
Finally, remember the importance of courageous conversations. Do you know someone who goes without their safety equipment, waives cover when they shouldn't or drives faster than the situation warrants? Have a courageous conversation with them. Tell them that their family needs them, the department needs them and that you care about them. Remind them that they cannot help if they do not get there. These talks are never easy and that's why they take courage. I have seen the pain borne by those who wish they had told a friend to slow down and now carry a burden of guilt because that friend was lost forever. Take the time and make the effort because you may not get another chance.
Remember the families who will be attending Police Week. Commit yourself to making sure that your loved ones don't have to make that terrible walk. Don't do it for you. Do it for them.
NEXT: Hail to hardworking cops