National 'Thank You' day for police officers
Citizens are encouraged to take a moment out of their day to show appreciation for their local officers
---
By Police1 Staff
The inaugural "Tell A Police Officer 'Thank You' Day" takes place Saturday.
The initiative has been started by the Whole Truth Project, an organization with a mission to promote a pro-police message.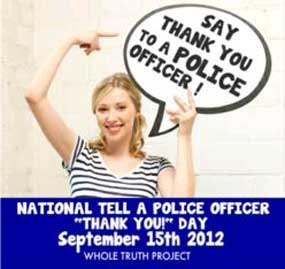 Police officers risk their lives to protect and serve their communities yet too often get a bad rap, according to the group.
Citizens are encouraged to take a moment out of their day to show appreciation for their local officers through small acts of gratitude or by saying "thank you," and businesses are urged to donate something to police departments, like breakfast or coffee.
"Having represented police officers for several years, I know the difficult job these men and women undertake every day and I think we often take our police officers for granted, said attorney and project founder Andrew Hale. "We must show support and appreciation for those that serve and protect us."
Andrew M. Hale & Associates is a Chicago-based law firm that has represented police officers in numerous high profile cases and is working to remove the media bias toward law enforcement duties.
"A few 'bad apple' police officers do not spoil the whole tree," Hale said. "The overwhelming majority of police officers are dedicated and hard-working."