Park renamed in honor of fallen Mo. officer
Officer Blake Synder's wife and family, officials and hundreds of fellow cops, gathered at the park to dedicate it to the fallen officer
---
By Christine Byers
St. Louis Post-Dispatch
GREEN PARK, Mo. — Before Blake and Elizabeth Snyder became parents, he took her to Clydesdale Park in this south St. Louis County community for a run along its trails.
"It was just us," she recalled Wednesday.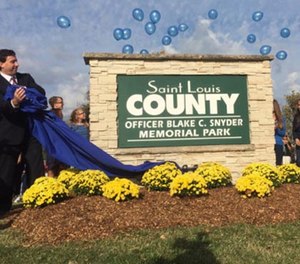 The moment is among memories Elizabeth Snyder said she would forever hold dear of her husband, a St. Louis County police officer who was shot and killed in the line of duty on Oct. 6 not far away. An 18-year-old man was arrested and charged with murder.
His wife, along with her husband's family, elected officials and hundreds of police officers, gathered at the park Wednesday morning to dedicate it under the new name Officer Blake C. Snyder Memorial Park. The Mehlville Fire Protection District flew an American flag from a ladder truck at the park entrance.
Two people started a petition to name the park for Blake Snyder, and thousands signed it. County Executive Steve Stenger then changed the name by executive order.
Stenger and Police Chief Jon Belmar joined Elizabeth Snyder in speaking to the crowd.
She began by asking for a moment of silence in honor of two officers who were separately killed in Iowa while sitting in their patrol cars early Wednesday.
Then she thanked the community as well as Stenger, Belmar, and her husband's commander, Capt. Jeff Fuesting of the Affton precinct, for all they have done for her and her family.
"I feel like my family has grown by thousands," she said.
She held her son, Malachi, 2, as he tugged at a blue rope to unveil the park's new entry sign that bears his father's name.
The crowd clapped as it fell.
Malachi clapped, too.
And a class from Buerkle Middle School, in the Mehlville District, released blue balloons.
Elizabeth Snyder told reporters that had her husband been there, his face would have turned "five shades of red" for all that was done in his honor.
"This is definitely a beautiful day, and I love that this is happening," she said. "This is a place where we will forever remember him."
She joked that she and her son would become "permanent residents," at the park.
His favorite place there is the trails.
"He loves to run," she said.
McClatchy-Tribune News Service