Chief: 'Thank God' shot, wounded off-duty Fla. detective had on ballistic vest
The windshield of the detective's car was pierced several times by bullets, but his 14-year-old son was not harmed
---
By Dana Treen
The Florida Times-Union
JACKSONVILLE, Fla. — With enough foresight to put on a protective vest during a traffic stop on his way to work before dropping off his son at school, a Jacksonville detective survived the unthinkable Wednesday as a 19-year-old opened fire hitting him in the head, body and hand.
The detective fired back, but the suspect briefly got away before officers wounded him in what the Sheriff's Office described as a possible attempted "suicide by cop."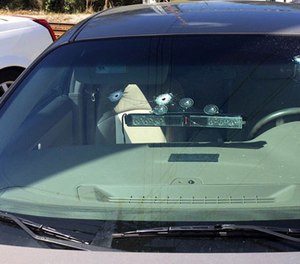 Kevin Ryan Rojas, 19, was charged with two counts of attempted murder and two counts of aggravated assault on a law enforcement officer, although he remained hospitalized Wednesday afternoon.
The unidentified detective, who works undercover in narcotics and isn't being identified by the Sheriff's Office for his safety, was airlifted to UF Health Jacksonville. Chief Tom Hackney said he was conscious when he was taken from the scene and also was alert following surgery but still in critical condition and stabilized.
Rojas had just been involved in an argument with his live-in girlfriend where he threatened to harm himself, saying "Today could be his last day on earth" and two shots were fired, Hackney said. The gun belonged to a roommate who she said bought it for protection because of the way he was acting the last few weeks.
"He carried that domestic disturbance out into the road with him," Hackney said.
No 911 call was made from the first incident, he said.
The detective was driving his unmarked car about 7:20 a.m. when he decided to stop a white Cadillac that had driven by him erratically, Hackney said. After initially not stopping, the suspect pulled over near some railroad tracks on Collins Road near Roosevelt Boulevard and immediately got out shooting.
Although he didn't call in the traffic stop, he put on his body armor, and "Thank God that he did," Hackney said.
The vest also was clearly marked "Police" on the front and back with a badge attached to the front, he said.
"I don't think it was anything ominous about this stop that made him want to wear a vest other than he's doing what his training has dictated what he would do," Sheriff Mike Williams said.
The windshield of the detective's car was pierced several times by bullets, but his 14-year-old son was not harmed.
"It's by God's grace that he was not shot as well," Hackney said, also noting what the boy's going through having to witness his father being shot like that.
He said people who were nearby when the shooting occurred pulled the officer off the tracks and got his car moved as a train was approaching.
"There's nothing worse than getting shot to find yourself in the path of an oncoming train when you may not realize that and it was heads-up on those guys' part [to help the wounded officer]," Hackney said.
After the suspect fired four times from a 9mm gun and the detective shot nine times, Hackney said the suspect was not hit and stole a Ford F-350 flatbed truck at a nearby business. He was quickly located by two other officers on Collins Road. When they tried to stop him, he drove into his Whispering Pines subdivision at a dead end on Oak Crossing Drive and crashed into his neighbor's house.
He then went into his own home and the two officers said they saw him pointing the gun at them through a sliding-glass door. Hackney said the suspect's girlfriend and possibly others were inside the home because "he made statements to them that he had just shot a cop."
Officers Sam Pagan, a six-year veteran, and Clyde Jacobs, a seven-year veteran, fired a total of eight times hitting Rojas at least three times in the torso and a leg and hand, Hackney said. It was their first police-involved shooting.
"I think he was on this medication and wasn't aware of what was going on. I don't [know] his mental status. I don't know what was going on," Amy Wyss told WJXT TV-4 about her son. "Please don't make him out to be this person he's not."
She apologized over and over again and said this isn't like her son.
Police from other agencies arrived on scene and officers also gathered at UF Health.
Other agencies, including the St. Johns, Alachua and Citrus county sheriff's offices as well as the Fraternal Order of Police and Jacksonville Mayor Lenny Curry have posted messages of support on social media for the officer and the Jacksonville Sheriff's Office.
"We are very fortunate that this doesn't happen more often ... I think we are feeling very thankful it wasn't worse," said Shannon Hartley, spokesman for Jacksonville's police union.
Williams said employees are not prohibited from transporting civilians in their company vehicles, so the officer was not violating policy by taking his son to school. Williams said the organization's policy is for officers to "log out" before attempting a traffic stop for the officer's safety, and that will be looked into during the follow-up investigation.
"You're talking about, in the grand scheme of things, a pretty minor policy violation," Williams said. "What we do want to stress today is the fact that we give officers a lot of discretion. ... You can't write every situation in the policy and tell people to follow that to the letter."
The detective was hired as a police officer in 2008 and has been in narcotics for a couple of years, Hackney said.
He addressed the precarious position officers can find themselves in at any time and how no traffic stop is routine.
"It really highlights the unknown nature of police work," he said.
This is the fourth police-involved shooting of the year in Jacksonville, but no suspects were killed. Last year five suspects were killed in 10 police-involved shootings, according to Times-Union records.
Wednesday's shooting of the officer was the worst in Jacksonville since Jared Reston was working off-duty at Regency Square mall in January 2008 and was shot in the face, thigh and buttock. A total of six bullets struck Reston who was wearing a vest and fired back 14 times and killed the young suspect. He survived and has since been involved in other police shootings.
More recently in July 2013, Officer J.C. Prentice was shot in the arm during the arrest of a man suspected in several burglaries. As the arrest was being made, the man reached for his gun and fired.
In April 2013 Officer J. Andrew Benson was shot in the arm after attempting a traffic stop. The shooter fired several rounds out the window of his car.
In September 2008 Officer Clifford Sames was shot when he tried talking with a man acting suspiciously and grabbed the man's elbow and arm. The suspect pulled a gun and fired twice, once missing Sames and then striking him in the neck. The suspect was shot and killed.
Copyright 2016 The Florida Times-Union 
McClatchy-Tribune News Service

Request product info from top Police Body Armor companies
Thank You!