Rifle lights for law enforcement use
When seeking a light to illuminate nighttime operations, the brightest isn't necessarily the best
---
A few months back, we looked at variable-power rifle scopes for Designated Marksman (DM) rifles. By upgrading from a 1x long-eye relief optic to something that will magnify the problem from 4-6 times, we not only gain shooting precision, we gain the more important ability to better discriminate potential targets.
The vast majority of police rifle training takes place in daylight conditions, but the wolves we hunt are often more active as the light fades to nighttime. Very few patrol officers have access to night-vision optics, so must make do with the equipment they have. Luckily, few police situations are completely dark.
In the interest of a side-by-side comparison of weapon lights, I made a few phone calls and asked some manufacturers to send their latest, most powerful LED lights. Like my frustrating DM scope reviews, some major light manufacturers promised test samples, but failed to come through — marketing representatives today seem different from those with whom I dealt with 30 years ago when I started writing for police publications like Police1.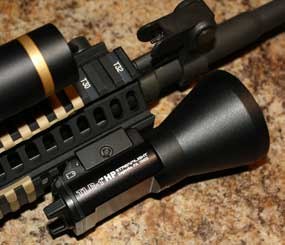 Two Option Types
There are two ways to equip your rifle with a light. The first is a dedicated weapon light, generally designed to mount on a Picatinny rail. The second, often less expensive way is with a mount that secures a handheld flashlight onto your rifle. Many handheld LED flashlights intended for police service come with a one-inch main tube, and there are more one-inch mounts than we could ever catalog here.
One major manufacturer — which didn't send any lights for review — insists that handheld flashlights should never be used on fighting weapons since they lack shock-mounted circuitry to protect the electronics from the weapon's recoil. I've seen flashlights with conventional filament bulbs break under heavy recoil, but I have never known any brand of handheld LED light to fail on an M4/M16/AR15 weapon.
I asked several operators who have banged their lights around far more than me and couldn't find a single failure. I suppose the recoil of a shotgun might eventually "kill" an LED light, but it seems unlikely for a 5.56mm rifle.
I used a budget-priced Walther light as a comparison to four other powerful LED systems. The test weapon was a Colt M4 "Monolithic" carbine with extended Picatinny quad rails, coupled with a Leupold VX6 1-6x scope with a red-dot lighted reticle.
Field Testing
I placed life-size, full-color human face sniper targets at 50, 100, and 200 yards and waited for the rifle range to get to full darkness — 45 minutes after sunset, two hours before moonrise. We even had a heavy cloud cover blocking starlight — it was one damn dark night, much darker than you are likely to encounter in an urban environment.
The handheld test lights evaluated were the aforementioned Walther Tactical Pro, rated at 170 lumens; a Brite Strike BD198 MH, rated at 310 lumens; and a Streamlight ProTac HL, rated at an impressive 600 lumens.
The two dedicated weapon lights tested that night were also from Streamlight: the latest version of their tried and true TLR-1, now rated at 300 lumens, and the 200-lumen output TLR-1 HP.
The lumen ratings of different makers are clearly inconsistent. The Walther's stated 170 lumen output, the lowest rating of the bunch, was fully as bright as all the others — except the 600-lumen Streamlight ProTac HL, which was definitely the "flamethrower" of the bunch.
The photographic target I used is of a Caucasian male with a mustache. The chart below rates the distance at which I could clearly make out the suspect's mustache when the given light was used to illuminate the target, being viewed through the Leupold scope set at 6x.
My Choice?
The Streamlight TLR-1 HP is physically the largest of the five lights, but I could ID the target out at 200 yards without it being so bright it seriously hampered night vision under CQB conditions. The Streamlight TLR-1 HP illustrates how the "reach" of a weapon light cannot be accurately predicted solely by the rated lumen output.
Despite the modest 200-lumen rating, the TLR-1 HP's tightly focused central spot doubles the effective ID range.
| | | | | |
| --- | --- | --- | --- | --- |
| Light | Lumens | Max ID Range | Notes | MSRP |
| Walther Tactical Pro | 170 | 50 yards | Marginal @ 100yds, no momentary switch | $28 |
| Brite Strike BD198 MH | 310 | 100 yards | Also available with Hi-Lo-Strobe settings | $140 |
| Streamlight ProTac HL | 600 | 100 yards | Very bright "flood" type of beam | $80 |
| Streamlight TLR-1 | 300 | 100 yards | Picatinny mount w/central "hot spot" | $100 |
| Streamlight TLR-1 HP | 200 | 200 yards | Picatinny mount w/intense central "hot spot" | $130 |