The safest place to be in a vehicle ambush attack
Have a plan, should you come under attack when in a vehicle
---
In any given year, roughly half of all police-involved shootings take place from or around vehicles. More recently, we have seen a dramatic spike in incidents where law enforcement officers have been the victims of unprovoked attacks while sitting in their marked vehicles.
This disturbing trend has caused those of us involved in training to take a hard look at how we are preparing our officers for the possibility of an ambush attack. A logical first step is revisiting the topic of mindset and mental conditioning. The harsh reality is bad things often happen to good people and law enforcement officers need to come to terms with the fact that they could be targeted for attack.
Staying switched on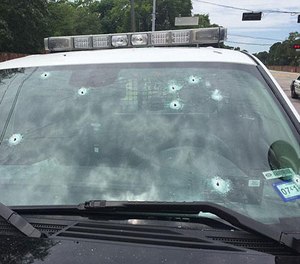 Awareness is the first cornerstone of a positive mindset and many such ambush incidents can be averted if we stay switched on. I recognize, of course, it is especially difficult to maintain a constant state of Condition Yellow over the course of a long day and we simply can't view every citizen we come in contact with as a deadly threat. Although a great many citizen interactions might be best categorized as service calls, keep that radar up. Recognize that situations can flip in the blink of an eye and trust your sixth sense. If things don't seem right, they probably aren't.
Sound tactics, while in the vehicle, are yet another component of the safety net. If an attack is imminent or ongoing, drive away. But what if an obstacle or traffic makes this impossible? What if the threat is just a few feet away and is bringing his or her weapon to bear?
Testing defense tactics
Recently, I had the opportunity to attend an eight-hour program on vehicle defense tactics which was sponsored by the International Association of Law Enforcement Firearms Instructors. This block of instruction focused on how to effectively fire from a vehicle, exit the kill zone and exactly what parts of contemporary vehicles represent true cover. We were also afforded the opportunity to fire a few different rounds utilized for law enforcement applications at vehicles and to assess the results.
Many diverse materials make up modern vehicles, including various types of metal, plastic, rubber and glass. It's probably a safe bet that today's cars are smaller and lighter than the heavy metal American-made cars of the '60s and '70s. We were all curious to see exactly what, if any, protection a vehicle could provide against incoming fire.
First, let's consider glass. Many people fail to recognize that angled, windshield glass is a formidable obstacle. Windshields are made of laminated glass and a bullet impact will cause it to crack and spider web, but not shatter. Windshields often play havoc with bullet performance and results could include jacket/core separation, deflection from the point of aim and inconsistent expansion qualities. Side windows are made of tempered glass and a single bullet impact will typically cause them to shatter.
During the seminar, a few different handgun, rifle and shotgun rounds were fired at vehicle windshields and doors. A target was placed on the passenger seat to determine if the rounds fired deviated from the point of aim. It should hardly be a surprise that all the rounds fired penetrated and struck the target. Both a non-bonded 9mm jacketed hollowpoint and a .223 Remington soft point exhibited signs of jacket failure, but still struck the targets. Handgun rounds featuring a bonded bullet, rifled slugs and a .223 Remington round traveled true to the target without any issues.
Firing at an open door did produce some surprising results. A casual observer might consider that the sheet metal of a car door wouldn't be much of a barrier, but there is a lot more to the door than meets the eye. Car doors contain windows, electric motors, locks, brake stays, lift mechanisms, as well as inner panels and arm rests.
In the test, four different handgun rounds were fired from a distance of 10 yards at a door open approximately 45 degrees. Rounds included two examples each of 9mm and .45 ACP, with both bonded and non-bonded bullets. A single example of each round was fired at the open door.
The most surprising result was that none of the handgun rounds penetrated the door. This was by no means an exhaustive test nor am I suggesting that car doors are bulletproof. But based on this informal test, and what we've witnessed in actual police action shootings, even the best handgun rounds are "iffy" penetrators on car doors. On the other hand, both the .223 Remington rounds and 12-gauge rifled slugs  easily penetrated the door.
Takeaways from testing tactics
So what can we learn here? While not true cover, a door might provide some limited ballistic protection in a frontal attack. Exit the kill zone, stay low and move to better cover at the rear of the car and beyond. Doors provide absolutely no protection from centerfire rifle rounds and shotgun slugs. But this cuts both ways. If you absolutely need to get inside a motor vehicle by punching through a door or windshield, rifled slugs have no peer. For rifles, consider one of the popular barrier breaching rounds from the major manufacturers.
If you have to shoot through the windshield while sealed behind the wheel, a well-designed bullet will punch through the glass, track true and expand when it strikes the threat. Again, premium quality rounds specifically designed for law enforcement applications are readily available and performance is light years beyond what it was a generation ago.
True cover in a vehicle remains the engine block and brake drums. But taking a good defendable position behind them can be difficult. If and when possible, move to better cover away from your vehicle. At the very least, your vehicle could provide you with a measure of concealment.
Have a plan, should you come under attack when in a vehicle. Get yourself in a defendable position as soon as possible and take the fight to the assailant. That might include firing through the side windows or windshield. When working with a partner or backup, those timeless concepts of cover and contact still ring true. Define those roles and make sure somebody is watching the immediate area, as well as what is beyond. Stay switched on to stay safe.
Request product info from top Ammunition companies
Thank You!