FTCoE report provides insights, info on portable drug testing devices
The opioid crisis and the rise in novel psychoactive substances (NPSs) hitting the street was the impetus for developing this particular landscape study
---
This article is taken from the June 2018 issue of eTechBeat, published by the Justice Technology Information Center, a component of the National Law Enforcement and Corrections Technology Center System, a program of the National Institute of Justice, (800) 248-2742.
By Becky Lewis
TechBeat Magazine
Heroin. Fentanyl. Carfentanil. Synthetic cannabinoids.
Mass spectrometry. Ion mobility spectrometry. Raman spectroscopy. Infrared spectrometry.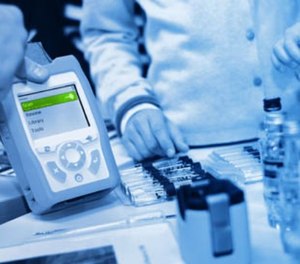 Law enforcement officers in the field encounter a vast number of confusing street drugs, and administrators looking to purchase portable drug testing technology may find the choices equally confusing. A new landscape report from the Forensic Technology Center of Excellence (FTCoE), Landscape Study of Field Portable Devices for Presumptive Drug Testing, can help clear up that confusion.
Like the other landscape reports produced by the National Institute of Justice's FTCoE, Field Portable Devices offers a discussion of the benefits, limitations and implementation considerations for the various technologies; a comparison of how they work; agency case studies spotlighting their use; a glossary; information on emerging technologies; and an extensive side-by-side comparison of product features.
"We want the users to see themselves in all of our landscape reports," says the FTCoE's Rebecca Shute. "We lay out important purchasing considerations and provide examples of successful implementation to help the forensic and law enforcement communities implement the right technology for them."
The opioid crisis and the rise in novel psychoactive substances (NPSs) hitting the street was the impetus for developing this particular landscape study, as officers not only face an increasing number of substances carried by suspects, but also a greater danger from possible deadly exposure to powerful opioid drugs.
"Safely identifying unknown chemicals in the field is a critical topic to all law enforcement agencies," Shute says. "Many agencies are pushing to eliminate field testing for officer safety reasons. This report shows them that there are a variety of technology alternatives in addition to the option of eliminating field testing altogether."
The FTCoE's Megan Grabenauer adds that safety concerns have caused many agencies to eliminate the well-known color-change kits used in the past. Portable field testing devices in general tend to be more sensitive, and in some cases can make accurate readings, even through packaging. She cautions that the capability varies according to the technology and the substance being tested. Color-based tests also often have multiple steps and can be difficult to interpret in the field, especially in low light. Portable drug testing devices provide a clear, objective output.
"Without field testing, officers must use their judgment as to whether to make an arrest. If they have a test that says indications are this is a controlled substance, it gives them backup that they really like to have," Grabenauer says.
"Preliminary testing can provide important investigative leads through establishing probable cause to arrest an individual suspected of possessing illicit drugs," Shute says. "The results of these tests may lead to plea deals, which may reduce the burden on the court system. It helps officers make informed decisions in the field."
Grabenauer notes that from a strict legal perspective, some NPSs are not unlawful, and being able to use a portable device to determine something is not a controlled substance is an important feature. Many devices come with a library that is revised on a regular basis through firmware updates or Internet downloads, a key way of keeping tabs on emerging NPSs. This leads to another advantage portable field devices have over traditional color-based testing, because no one knows how those tests would react with one of the new materials.
"We know that baking soda doesn't react to the test for cocaine, but we have no idea how a new synthetic cannabinoid might react," Grabenauer says.
Shute agrees, saying, "New drug analogues are being created at a rapid rate, and it's hard to keep up with the pace of development. It takes a long time to develop a new color test, and when multiple NPSs hit the street in a month, there's no way to develop tests for all of them. Conversely, these portable devices can detect these new compounds through quick library updates."
Another significant difference between the portable devices and color-based testing is cost, with pricing on the miniaturized versions of lab instruments starting at around $25,000 and going up from there. (Traditional color-based test kits cost relatively little.)
"Agencies told us they could buy a new cruiser for that kind of money, but if you compare the cost over time, particularly in areas that have a lot of drug activity, a case can be made that they do pay for themselves. The cost structure is different, however, and funding request justifications should address this," Shute says.
"Budget requests need to demonstrate long-term cost savings versus the up-front expense to support the challenging approval process," Grabenauer says. "Awareness is key. I've done ride-alongs to help learn how officers perform drug testing in the field, and many patrol officers don't even know the newer technologies exist. It's the top of the chain-of-command that makes the decisions, but front-line officers can influence that decision by sharing their experiences and making technology requests based on their knowledge. It's just a question of getting the information out to them."
Landscape Study of Field Portable Devices for Presumptive Drug Testing can be downloaded from https://forensiccoe.org/landscape-study-of-field-portable-devices-for-presumptive-drug-testing/. For more information on FTCoE programs, contact Dr. John Morgan, Director at jmorgan@rti.org. For more information on forensics programs of the National Institute of Justice, contact Gerald LaPorte, Director, Office of Investigative and Forensic Sciences, at Gerald.LaPorte@usdoj.gov.