3 new mini thermal imagers small enough for pistols
All models utilize a single transverse mounted CR123 battery with a minimum of 8 hours expected life
---
By Police1 Staff
Torrey Pines Logic has recently unveiled three new models of mini thermal imagers: two consumer models for outdoor and hunting use and a third ruggedized model for military and law enforcement applications.
The T10-S, T10-N, and T10-M all offer a FLIR core, on-board image processing, manual and automatic NUC (Non-Uniformity Correction) capability, temperature read-out, battery read-out and protection, and auto power-save.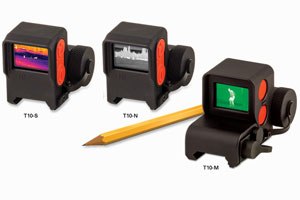 Other features include flexible mounting options, including Picatinny rail/ wrist strap/ user mounts.  
The T10-S and T10-N are ideal for hunters and outdoorsmen, offer 50 and 25 degree FOV respectively, and feature 9-Hz video, are export-ready, and weigh 50 grams without the battery.
The T10-M offers 50 degree FOV and 30-Hz video to support more sophisticated user needs. Other features include a protective shroud and a quick detach mounting system. It weighs 109 grams and is durable enough to handle high recoil firearms.
All models utilize a single transverse mounted CR123 battery with a minimum of 8 hours expected life. The T10 meets IP67 waterproofing standards, which is 1 meter for 30 minutes. All models also have multiple display modes: white hot, black hot, NV green and color.
MSRP for the T10-S is $499, the T10-N is $599 and the ruggedized T10-M is $699.
For more information, visit TPLogic.com.

Request product info from top Police Thermal Imaging companies
Thank You!