PRESS RELEASE
PoliceOne Wins 2014 FOLIO: Eddie Award for Best Online Community
---
Company takes home top position in Community, Facebook and Online Column categories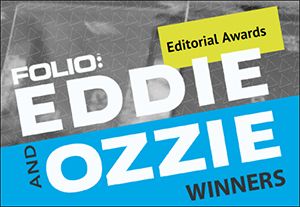 SAN FRANCISCO – Praetorian Digital, the leading digital media company in the public safety and local government market, today announced that it has won three 2014 EDDIE Awards, which recognize the best in editorial across all sectors of media. The prestigious annual award program, the largest and most inclusive in the media industry, cover a wide range of publisher types, including b-to-b, consumer, association, and city and regional media.
PoliceOne.com, FireRescue1.com and EMS1.com were named winners in the following categories:

As the recipient of the award for Best Online Community (B-to-B), PoliceOne was recognized for having a strong online program that facilitates virtual member-to-member interaction among its 500,000 registered members. With an average of 5,700 member comments a month and a number of user-generated content features, audience participation is high among a site audience that averages 2.5 million unique visitors each month.
PoliceOne.com was also named runner-up in the Best Website (B-to B, Government / Public Sector / Education) category.
FireRescue1 received the award for Best Use of Social Media for its Volunteer Firefighter's Facebook page, one of the largest and most active pages for the volunteer firefighting community on Facebook. With more than 150,000 fans, the page provides an environment for volunteer firefighters to interact and share content.
Lastly, EMS1 received the award for Best Online Column (B-to-B) for The Ambulance Driver's Perspective, written by Kelly Grayson, who has spent the past 18 years as a field paramedic, supervisor and educator. In his column, Grayson shares stories and tips with fellow EMTs and paramedics. He was specifically recognized for his very moving and personal article about depression, "True confessions of a clinically depressed medic."  
"We've always considered the FOLIO Eddies among the preeminent media awards programs, and we are thrilled to be honored for such a broad range of achievements," said Jon Hughes, Editorial Director at Praetorian Group. "2014 has been a big year of significant editorial achievements for us – from singular coverage efforts to historic traffic milestones – and these awards further validate the effort and quality of work our team has put forth in creating mission-critical content for our audience of first responders."
This year, the FOLIO: team narrowed down the more than 2,800 entries received to a list of finalists in both print and online categories. Over 150 awards were handed out to consumer, b-to-b, regional and association magazines, more than 40 of which were dedicated to recognizing digital excellence.
Winners of the Eddie & Ozzie Awards were announced during an awards breakfast on December 11, 2014, in New York City. The complete list of finalists and winners can be found here.
About Praetorian Digital
Founded in 1999, Praetorian Digital is the leading digital media company in the public safety and local government market. Our properties are visited by more than 5 million public safety and local government officials every month and count over 1.3 million first responders and government personnel as members. Praetorian owns and operates PoliceOne.com, FireRescue1.com, FireChief.com, EMS1.com, Corrections1.com, Military1.com and Gov1.com as well as more than 15 topical public safety websites providing resources ranging from accredited online training to grant funding assistance. We are deeply committed to providing cutting-edge information and resources that help first responders, government officials and military personnel better protect themselves and serve their communities.

For more information on the Praetorian Group, visit www.PraetorianGroup.com.
About FOLIO
The Eddie & Ozzie Awards program is presented by Folio:, the leading publication serving the entire magazine media industry. The FOLIO: family of products also includes the monthly FOLIO: magazine, weekly eNewsletters, FOLIO: Webinars, MediaNext Show, The MediaMashup Conference, The Eddie & Ozzie Awards and The FOLIO: 100. For more information, visit www.foliomag.com.