Mo. governor meets with St. Louis clergy as wait for fatal 2011 OIS verdict continues
Activists recently promised mass disruption if Jason Stockley is acquitted for killing Anthony Lamar Smith
---
By Celeste Bott
St. Louis Post-Dispatch
ST. LOUIS — Missouri Gov. Eric Greitens on Monday met with black faith leaders, police and first responders in what he called a proactive approach to fears of unrest, as the city anxiously awaits a verdict in the murder trial of a former St. Louis police officer.
Days earlier, other clergy members calling for the first-degree murder conviction of former city cop Jason Stockley delivered a warning to the judge in the case: "The blood will be on your hands" if a guilty verdict is not issued.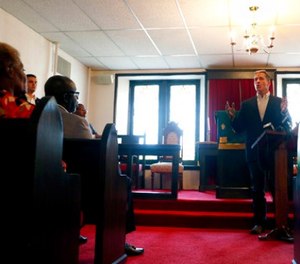 Greitens addressed that tension while speaking at Washington Metropolitan A.M.E. Zion Church in St. Louis on Monday, where he said he initiated the meeting in the hope of keeping open lines of communication between state officials and community leaders should Circuit Judge Timothy Wilson's impending ruling spark protests similar to those in Ferguson.
"In the past in Missouri, we've had leaders who wanted to wait until violence happened to ask people to sit down, who wanted to wait until there are screaming people and sirens wailing," Greitens said. "And that's a very hard time to have a conversation."
People are hurting, the governor acknowledged, and they've said as much already. Activists recently promised mass disruption if Stockley is acquitted for killing Anthony Lamar Smith, the 24-year-old he shot five times at close range after a car chase in 2011.
Stockley's attorneys say he acted in self-defense by shooting a drug suspect who appeared to be reaching for a firearm, but prosecutors contend Stockley "executed" Smith and planted a gun in his car to justify the killing.
Stockley waived his right to a jury trial, meaning all eyes are now on Wilson, who could make a decision any day, either by calling a hearing or issuing his ruling outright.
Greitens said he had no idea when that could happen, but insisted he heard the concerns from the clergy members who wanted assurance that those protesting with dignity don't have their demonstrations disrupted.
After the meeting, Greitens issued a warning to those with any plans to protest violently.
"Breaking a window is not free speech. Throwing bricks at police is not free speech. For folks who want to light a candle and walk in a vigil, they should know that we are here to protect them," he said. "For those who want to light a Molotov cocktail and burn down a home, they should know we are going to arrest them."
The Rev. Dr. Linden Bowie, president of the Missionary Baptist State Convention of Missouri, said he felt the governor was sincere in his effort to get in front of any potential destruction. But he offered a warning of his own.
"We're not here to try to control our young activists. That's not our responsibility. That's not our job," said Bowie, who had been invited to attend the sit-down with Greitens. "If a militarized police presence shows up, that will incite a certain response."
Bowie said Greitens was told to talk not just to religious leaders, but to activists who have been on the front lines since Ferguson.
"He's going to need to talk to people who are feeling angry, who feel their voices have been squelched," he said.
———
©2017 the St. Louis Post-Dispatch
McClatchy-Tribune News Service

Request product info from top Riot Gear companies
Thank You!