IACP Products: Tactical vehicles getting tech savvy
---
Walking around the IACP tradeshow floor, it is clear that tactical vehicles stand out among the booths of tech devices like small mobile computers and wireless radios. Tactical vehicles are huge, heavily armored, and equipped with all sorts of devices to keep officers safe. But one thing was clear this year at IACP: tactical vehicles are getting tech savvy, integrating new technologies to make more efficient and more user-friendly vehicles for police departments.
I spoke with Thomas Henley, the law enforcement consultant for Oshkosh Defense, about the vehicles that are being used in departments across the country. OshKosh Defense, an international company, is rolling out armored personal transport vehicles, mostly used for SWAT teams, that are customizable, scalable protected vehicle for LEOs and homeland defense. New technologies like FLIR thermal imaging software or surveillance cameras can be easily mounted on the vehicles, and departments can hand-pick what equipment the vehicle is outfitted with.
"This vehicle [Tactical Protector Vehicle] is not a one-size-fits-all, but instead comes in different packages so the customer has the ability to scale it to whatever their needs might be," said Henley. "This vehicle also has the capability to go off-road and actually chase down criminals, versus being parked in one location." Furthermore, its level of protection is the critical factor in keeping officers safe.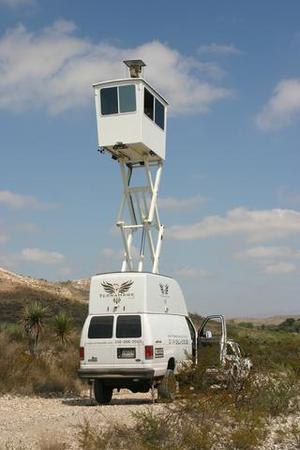 Another new eye-catching tactical vehicle on the IACP tradeshow floor was TerraHawk's M.U.S.T. (Mobile Utility Surveillance Tower). I spoke with John Spence and Marty James from TerraHawk about how the vehicle is revolutionizing the way officers keep surveillance at places like the U.S.-Mexican border.
An officer can drive this 4-wheel drive vehicle (placed on a one-ton Ford van with hydraulic stabilization to all four corners). Once the truck is leveled, the driver can step into the indoor capsule (without leaving the van) – a two-man, climate-controlled capsule that raises to approx. 25 feet in less than two minutes.
Used for providing officers with the benefit of quick response in developing security situations, the M.U.S.T. can be completely customized to meet any department's needs.
"Our idea originated for border patrol," Spence said. "We want to enable officers to do a better job and be more effective, and the way we're doing that is giving them a platform that's capable of going anywhere, and capable of accommodating new technology: surveillance equipment, thermal imaging, night vision, digital imaging, digital video recorders…we can even put servers in the unit where the truck can be located off-site and be able to control a camera mounted on the vehicle from an office."
When asked what the benefit of a manned observation capsule, Spence said that one of the problems plaguing departments involved in surveillance was visibility.
"By increasing the line of sight up to 25 feet, we can enhance the coverage of the naked eye tremendously," he said.

Request product info from top Police Vehicles companies
Thank You!