RISE Honorees: 'Hunting for Heroes' and the plight of the disabled police officer
Led and run by a team of active duty LEOs, Hunting for Heroes takes five to ten officers, alongside their families, to a retreat for healing
---
This spring, TASER and PoliceOne launched our second annual RISE Awards to acknowledge the officers and agencies who go above and beyond in the line of duty. After receiving countless qualified candidates, we decided to extend the program with the RISE Honorees in order to give some of the strongest nominees some much-deserved attention for their efforts. Hunting for Heroes' work with police officers critically injured in the line of duty has earned them a spot as a RISE honoree in our Community Leadership category.
On June 10, 2012, Officer Santos Cortez's five-year career in law enforcement ended. 
As the officer was responding to a call of an intoxicated driver, the suspect collided with his vehicle – sending his patrol car spinning into oncoming traffic. Cortez was hit head-on by a truck and sent back in the opposite direction before being ejected out of his passenger side window. 
He suffered a spinal cord injury, a broken neck, a head contusion, eight broken ribs, a collapsed lung, and a cut less than a centimeter from his carotid artery in the aftermath of the crash. To this day, he still has glass from the vehicle embedded in his neck.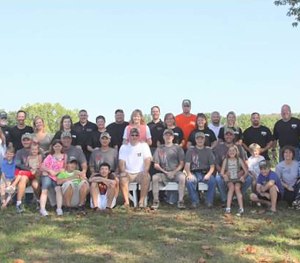 Like many police officers severely injured in the line of duty, Cortez survived, but he wasn't whole. In a matter of moments, his career as a police officer and his ability to walk were gone.
In the three years since the crash, Cortez has been in and out of the hospital for a total of 22 months.
"You tend to go into a dark place. For me, I was stuck in the hospital for so long instead of being with my family. You sit there and wonder, 'Why am I alive? Why do I deserve to be faced with all this?'" Cortez said.
"It's not their job, it's what they are"
Foreign objects are removed.  Scar tissue develops. Shattered bones reform. But there is a complexity to survival that goes beyond being pulled back from the brink of death.  After the wounds close – what remains?   
There are the physical burdens – the loss of a limb, paralysis, a traumatic brain injury. And there's the mental toll – PTSD, depression, thoughts of suicide. Many cops face financial hardship in the years after their injury. They become isolated. Their familial relationships become strained. Their very identity – that of a law officer – is suddenly and violently stripped away; a calling many had dreamed of pursuing since childhood.
"It's very hard for those guys to have that turned off overnight – it's very hard for them to swallow," ATF Agent Christopher Allen said.
Allen has seen the burden these officers carry as they attempt to adjust to a life altered in a way they may have contemplated, given the nature of their profession, but never could have expected. 
The cycle is all-too-familiar: an initial outpouring of support begins to fade away. Many officers find themselves feeling abandoned with little-to-no support system. 
"What happens is the agencies start to view this more as a business decision – they're not gonna be able to keep them [the officers] or maintain them," Allen said. 
Colleagues also begin to distance themselves – in an attempt to avoid the realities of what the job can do to an officer. 
"They don't know what to say anymore because they don't have to live in your new life. You feel like you have this brotherhood in the street – then all of the sudden you're not on the street. Where's everybody at? Where's the high-fives? You miss all of that," Cortez said.
Hunting and Healing
In 2009, Allen began conceptualizing a program that would bring these officers together and reignite the feelings of comradery and belonging they had when they were on the force. Led and run by a team of active duty LEOs, Hunting for Heroes (H4H) launched the following year. The all-expense paid trip takes five to ten officers, alongside their families, to a retreat for healing. 
"It's not like the VA – there's not a hundred-thousand injured cops around. They don't really have a network. We've created a network of people that understand what these people go through every day," Allen, who serves as H4H's President & Executive Director, said. "They come in as strangers and leave as family members." 
Thus far, over 40 officers have participated in the program with another 130 on a waiting list – representing 41 different states, Canada and Ireland. Cortez was invited to a four-day hog hunt in 2014.
"It makes you feel like there is life at the end of this tunnel. You don't need to be in that dark place. The friendships that you build in Hunting for Heroes – that's overwhelming," Cortez said.
The cops, who initially enter the program guarded, begin to take their walls down. According to Allen, you can see the changes in real-time. Many officers claim H4H gave them their lives back. The program boasts a 100 percent return volunteer rate from officers or their spouses who participated in previous events. 
During a combination of hunting, fishing, target shooting, and other outdoor exercises, officers not only reignite the brotherhood they felt as part of the thin blue line, but they also rekindle their relationships with their children and spouses. 
In a profession that's already plagued with high divorce rates, a critical injury can be catastrophic – and even further complicated when there are children involved.
"These guys are angry – a lot of them take this anger out at home. They don't know how to deal with their injuries," H4H Vice President and Chief Operating Officer Phillip Pritchett said. "You got to understand a lot of these police officers are extreme type A personalities – handling everything in the household. All of the sudden they're in a wheelchair unable to complete these tasks. It's hard on the children – seeing their parent unable to take care of themselves."  
Cortez – who has five children ages 4 to 21 and a wife who is a stay-at-home mother – struggled with the idea of not being able to be a "normal dad" and the "breadwinner" of the house in the wake of his critical injury. Hunting for Heroes helped his family connect with others faced with the same seismic challenges. 
Familial struggles also play a large part in where the program is looking to expand. A youth camp H4H plans to launch in 2017 will work with kids of injured cops to adapt and deal with the stress and change. It will be named in honor of a disabled officer's son, who committed suicide in 2014. 
The Forgotten Ones
With an average of 15,375 officers injured in the line of duty each year from assaults alone, the need for a support system is monumental. And while programs like Hunting for Heroes are vital to recovery, they're only a part of the equation. 
With a continual outpouring of support from his community, Cortez considers himself one of the lucky ones. He's heard the same horror stories Pritchett and Allen have – of officers left on their own, the "forgotten ones." Pritchett, Allen and Cortez all echoed the same belief: that the best thing fellow cops can do for their injured colleagues is stay in touch. 
"Even if you just call them once a month to just check on them – that goes such a long way. They're sitting at home watching The Price Is Right – they don't have anyone to talk to and some of the people they do talk to don't understand," Allen said. 
That understanding and drive to reconnect these cops to a world they felt left them behind is the reason we've chosen Hunting for Heroes as a RISE honoree. For more information and to find out what you can do to help, visit their website.