Court ruling helps officers suffering PTSD from a critical incident
Killing someone is not an "expected, usual, ordinary stress of the job"
---
It's taken nearly four years but Sergeant John France's long legal battle with his agency and its insurer have won a victory that could benefit other officers.
The day that changed his life
In the 36th year of his law enforcement career, Sergeant John France answered a call that would change him forever. In June 2017, John and another Gila County (Arizona) deputy were dispatched to check on a person threatening to kill himself. They positioned themselves on either side of a door that opened to a stairway. John saw the man run down the stairs carrying a shotgun "in a shooting stance." He stormed out the door screaming and pointed the shotgun at John's head.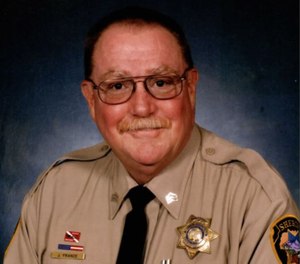 John and the deputy scrambled out of each other's line of fire and, with the man still screaming and pointing the shotgun at John's head, both officers shot him. John saw the rounds impact, the shock on the man's face. He watched him collapse and die at his feet. He can still see it.
John and the deputy were kept on the scene for six hours. John got home that night, discussed it with his wife and family, and went to bed. It wasn't until the next morning, walking from the bedroom to the kitchen to get his morning coffee, that it hit him "like a ton of bricks." He started crying. John had worked in suicide prevention and critical incident stress management. Now he found himself on the other side. He told his wife to use her police spouse connections and get him some help.
John felt fortunate he got help quickly with a therapist who specialized in first responder critical incidents and a peer group similarly experienced. It was through his wife, not his department. He was eventually diagnosed with PTSD. He never returned to work and retired in February 2018. He still goes to therapy monthly.
The victory
I wrote about John over a year ago. He battled his agency and its insurer – both fought to deny him worker's compensation for his PTSD. That article might help prepare you for how an agency can leave an officer feeling abandoned and betrayed.
On March 2, 2021, after litigating before an Administrative Law Judge (ALJ), the Industrial Commission of Arizona (ICA), and the state court of appeals, the Arizona supreme court gave John the final legal victory.
His first feeling was of immediate joy. Then the last 3½ years of effort and endurance, wear and tear, hit him. He "felt like somebody had pulled his plug." Now he faces the process of arbitration with the insurance company to obtain his benefits. As John said, "We won the battle, but we still have a little war ahead of us."
The court ruling and rationale
Both sides agreed John suffered PTSD because of the shooting. The question was whether it was compensable under the workers' compensation statute, which required his mental injury to be caused by, "[A]n unexpected, unusual or extraordinary stress related to the employment."
Gila County and its insurer argued that using deadly force in the line of duty was "a usual, expected, and ordinary" part of a deputy's duties for which they train. The ALJ and ICA agreed. The court of appeals sided with John. The state supreme court accepted the case to settle the issue statewide.
The supreme court said the ALJ and ICA erred by focusing on the nature and scope of a deputy's job duties rather than the shooting incident and its attendant stress. The court cited evidence this type of encounter was "exceedingly rare." In John's 36-year career he'd never previously killed anyone and had only fired his weapon one other time. Gila County had only 10 officer-involved shootings in the previous 40 years.
The court didn't place the rarity of officers killing someone on a national scale. It's also rare. In 2020, there were just over one million officers in the U.S. They killed just over a thousand people. That's a thousand in one odds.
What now
After the immediate joy of the supreme court's ruling and the realization that the long struggle had paid off, John said, "I'm just kind of numb, kind of tired, very relieved that they found in our favor. It gives me a sense of vindication. It's a huge win if we can prevent one other first responder from going through the anguish and everything associated with it that we went through."
John's victory will prevent other Arizona first responders from going through what he went through legally. For officers in other states, it may help if their workers' compensation law is similarly worded. While not binding in other states, officers can certainly point to the Arizona court's holding and reasoning.
The Arizona supreme court did limit its holding to mental injuries arising from a specific work-related incident. They did not address gradual injuries resulting from ordinary stresses and strains of the work regimen. That means officers in Arizona and elsewhere may still have to litigate what constitutes "ordinary stress and strains" of police work.
Here is a state-by-state breakdown of workers' compensation benefits for PTSD and mental-only injuries.
Many states have laws establishing a "presumption" that certain types of cancer contracted by first responders are the result of duty-related exposure entitling them to workers' compensation and other benefits. These are frequently relied on by firefighters.
John and other police advocates want the law governing mental health injuries to be presumptive, as well. Some states have done that. In 2018, Washington passed the First Responder Presumption. It provides that when a firefighter or police officer files a claim for PTSD, it is presumed to be an occupational disease unless the employer proves otherwise. Minnesota and California have similar laws. Vancouver, British Columbia has one of the more expansive presumptions.
I understand that law enforcement agencies have insurers whose job is to deny claims. But police leadership needs to ensure that officers who suffer legitimate mental health injuries don't feel abandoned and betrayed. Mental healthcare and treatment need to be encouraged by the profession and covered for work-related injuries.
NEXT: How police leadership can respond to officer mental health crises