Officers reflect on their time aiding the Uvalde community after shooting
"Almost all of us, at one point or another, had to go back to our patrol car and just cry for a little bit," one officer recalled
---
By Suzie Ziegler 
UVALDE, Texas — Two weeks ago, when a gunman killed 19 students and two teachers at a Texas elementary school, law enforcement officers from surrounding towns rushed to help. Among them were four Lubbock police officers who are sharing their story for the first time. 
Sgt. Chris Paine said it was a no-brainer that he and his officers would help in any way they could.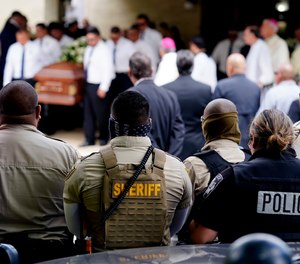 "I think any time that there's an opportunity to serve and, in a different capacity, that most officers are willing to do that," Paine told the Lubbock Avalanche-Journal on Tuesday. 
Paine said that the Lubbock officers helped at eight funerals during their time in Uvalde, providing traffic control and security. Paine said the work had a major impact on him and his officers.  
"I think almost all of us, at one point or another, had to go back to our patrol car after it was all over and out of sight of everybody and just cry for a little bit," Paine told Everything Lubbock. 
Officer Stacy Garcia said she was touched by how citizens demonstrated appreciation for the officers' help. 
"I didn't know how we were going to be welcomed into the community. And the second that we got there and started to interact with citizens, it was nothing but loving and thankful," Garcia told Everything Lubbock. "Everywhere we went citizens approached us and hugged us and shook our hands and told us, 'Thank you so much for being here.'"