How a Wash. PD is leveraging drone technology to serve citizens
The Tukwila Police Department's UAS program proved its worth during the first month of operations
---

Editor's note: Law enforcement agencies nationwide are adopting unmanned aerial systems (UAS) – also known as drones – for operations as diverse as search and rescue, traffic accident reconstruction and SWAT response. PoliceOne's special coverage series – 2018 Guide to Drones in Law Enforcement – takes an in-depth look at considerations for police departments looking to implement a UAS program.
By Victor Masters, P1 Contributor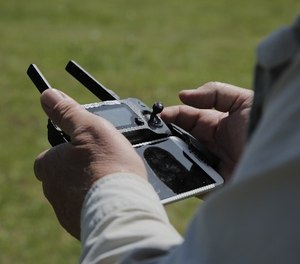 On May 12, 2017, the Tukwila Police Department's Unmanned Aircraft System (UAS) team of eight police officers completed a UAS training program and received the green light to conduct operations based on a proposed pilot program.
This article details the development of the Tukwila Police Department UAS Program and focuses on:
The Tukwila PD's UAS program deployment strategies;
Addressing privacy concerns associated with the use of UAS;
UAS deployment successes to date.
The benefits of UAS technology in law enforcement
Over the last several years, Tukwila PD has monitored advances in UAS technology while awaiting FAA regulations for integration of commercial and public use of UAS in the national airspace.
Once the FAA Part 107 rules governing commercial and public use were in effect, we began the research necessary to get permission from the Tukwila City leadership to conduct a UAS pilot program.
Our formal process began by communicating the benefits of a UAS program to the City Council and community groups in the hopes we would gain community support, along with council approval to get the pilot program started.
Communicating the benefits was the easy part because there have been examples nationwide of successful public safety UAS operations in the following areas:
Crime scene reconstruction (3D mapping);
Timely accident scene reconstruction (3D mapping);
Improved officer safety by providing an aerial perspective for better situational awareness during responses to critical incidences;
Conducting critical infrastructure and damage assessments during disaster response.
Because of privacy concerns involving the use of UAS by public safety organizations, we solicited tactics, techniques and procedures and borrowed from proven deployment strategies across organizations with a vested interest in the proper use and success of UAS in public safety.
To mitigate these concerns, the department adopted several recommendations and identified proven strategies for success communicated by organizations supporting the proper use of UAS by public safety organizations such as:
Developing a UAS policy manual, training program
With the information gathered from the above body of knowledge, the department set out to develop a policy and operations manual that addressed all concerns incorporating specific language on areas such as:
Authorizations for UAS use;
Supervision and reporting of UAS use:
Retention and management of data gathered by the UAS;
Restrictions for use of the UAS;
Training in UAS deployment.
The other part of our strategy was to communicate our intent as widely as possible beginning with the City Council, then several citizen groups such as the Community Oriented Policing Citizen Advisory Board and the Tukwila International Boulevard Advisory Committee.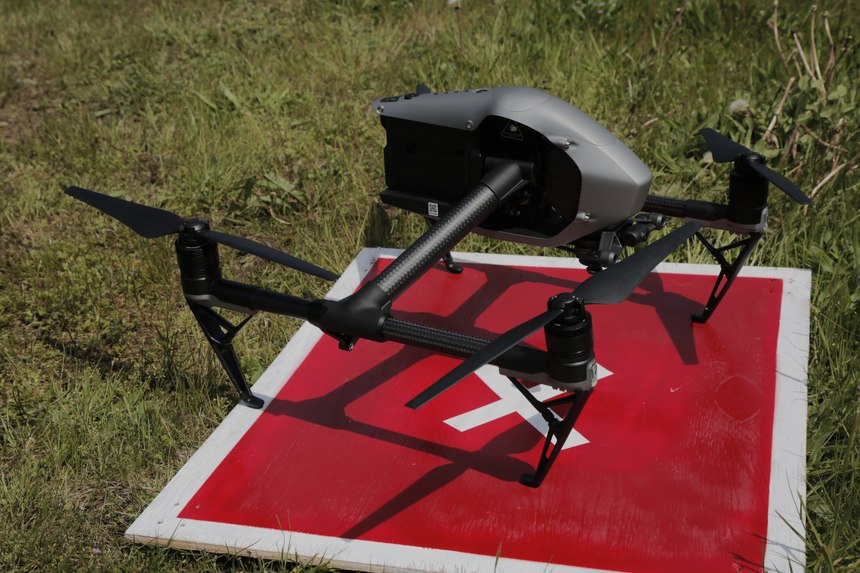 This communication provided an opportunity to share our information and report to our citizens the benefits of this technology and how we plan to use it responsibly.
Our elected leaders had many tough questions related to privacy issues and our intended use. We addressed their concerns within the proposed policy and operating procedures.
With authorization to proceed with the pilot program, we did not waste time. The selected officers/crewmembers studied over the next several months for their FAA Remote Pilot Certificate examinations. All aircrew member candidates were awarded their FAA Part 107 UAS Remote Pilot Certificate, which was the first step in the education process. The next step was a 40-hour course of instruction focused on additional academics and hands-on flight training with the department-provided DJI Mavic Pro and Inspire 2 UAS. The academics covered:
The Tukwila Police Department's UAS policy and our operations manual;
UAS equipment overview;
Data management solutions;
Aircraft and battery maintenance;
Hands-on flight training, including pre-flight procedures, maneuvering flight and mission planning;
Use scenarios;
Safety and standardization considerations.
It did not take long too long after the completion of the training to demonstrate the benefits of this new law enforcement tool.
UAS deployment: SWAT response
On May 25, 2017, our SWAT supervisor and UAS pilot assisted Valley SWAT in conducting a high-risk search warrant. This was Tukwila Police Department's first operational UAS mission.
The warrant service was of substantial risk because the target residence was potentially occupied by gang members who were involved in a series of drive-by shootings plaguing Seattle and the South Puget Sound. The back of the target residence was on a steep slope covered with thick vegetation, which was difficult to access and contain. This was a perfect scenario to deploy the UAS to maintain an aerial perspective to assist with officer safety.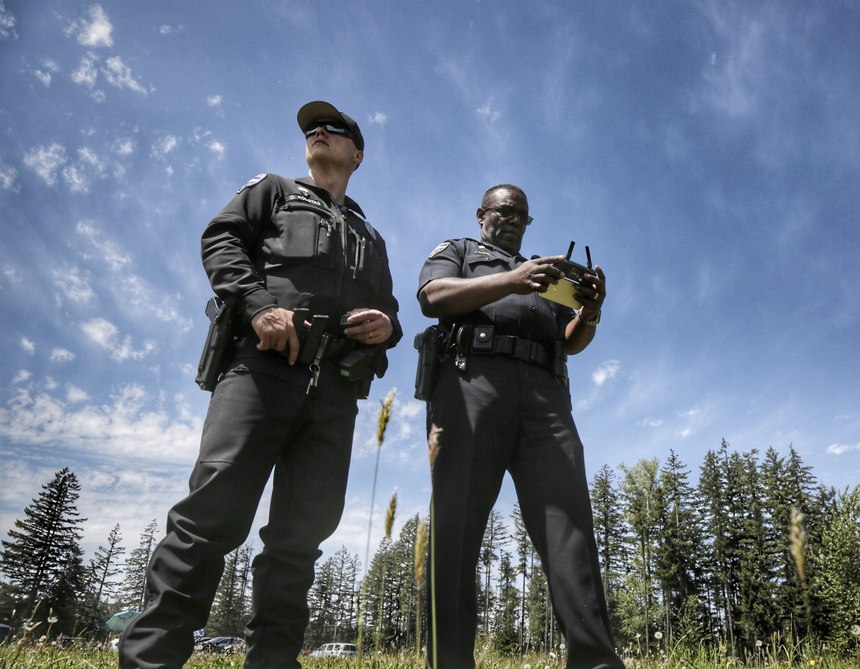 During the flight, the UAS kept watch on the rear of the residence while other perimeter units maintained a physical presence to prevent escape while the SWAT team made entry.
Because of that warrant service, we recovered weapons and information leading to follow-on warrants and the arrest of multiple individuals responsible for two Tukwila drive-by shootings and up to four additional shootings in the greater Seattle and surrounding area.
UAS deployment: Traffic accident
Between June 5, 2017, and June 7, 2017, our UAS team was requested to map two horrific traffic accident scenes.
The first was a T-bone accident at West Valley and Strander Boulevard, which resulted in a driver being transported to Harborview Medical Center in critical condition.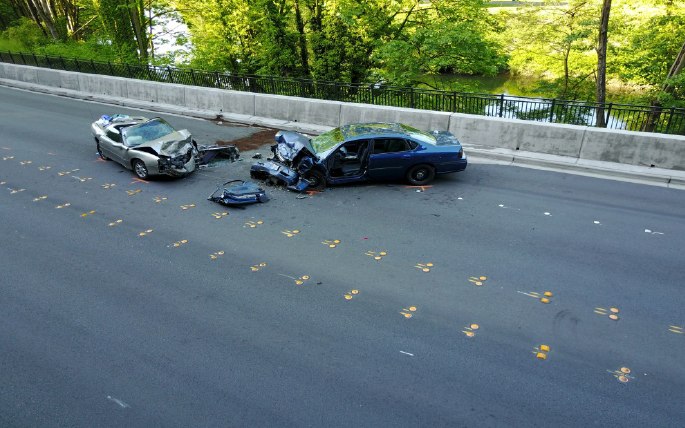 The roadway was opened in record time because of the 3D mapping capability of the intelligent UAS and associated programs used to map such scenes.
The second accident was on June 7, 2017, where the team mapped the head-on collision scene at the 15200 block of Interurban Ave S., which ended up being a vehicular assault case after an intoxicated individual crossed the centerline and collided head on with another vehicle. This resulted in another person being transported to Harbor View Medical Center in critical condition. Again, the use of UAS technology and 3D mapping software proved its worth. The scene was mapped in record time and the roadway was opened much earlier for the facilitation of commerce.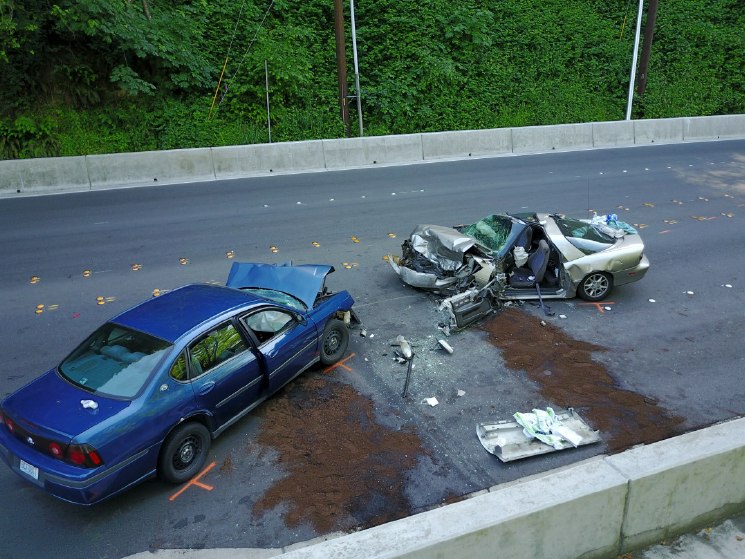 In closing
The intent of the Tukwila Police Department is to deploy UAS resources to enhance the department's ability to save lives, protect property and infrastructure and document crime and collision scenes. To date, we have met that mission. We continue to improve the program by getting better at the techniques as we train continuously and respond to incidents.
Please direct any questions or inquiries to Deputy Chief Bruce Linton at b.linton@tukwilawa.gov regarding Tukwila Police Department's UAS technology.
---
About the author
Victor Masters is the Public Information Officer for the Tukwila Police Department in Tukwila, Washington.