Police honor LEO who died in wake of Boston Marathon bombing
An LEO who died a year after he was wounded in a confrontation with the bombers has been promoted
---
Associated Press
BOSTON — An officer who died a year after he was wounded in a confrontation with the Boston Marathon bombers has been posthumously promoted.
Boston Police Department Police Commissioner William Evans promoted Officer Dennis Simmonds to the rank of police sergeant this week.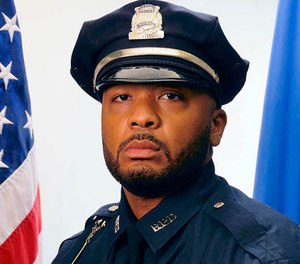 Simmonds was injured when a pipe bomb exploded near him days after the bombing. The explosive device was thrown by brothers Tamerlan and Dzhokhar Tsarnaev in Watertown on April 19, 2013, as they tried to escape.
Simmonds suffered a fatal brain aneurysm a year later while working out at the Boston Police Academy gym.
Evans said the decision to honor Simmonds with the promotion was an "easy one." The commissioner called him an "exceptional police officer who made the ultimate sacrifice protecting the city he loved."