'Heavy lift' awaits after city council confirms new Baltimore commissioner
Darryl De Sousa was confirmed as Baltimore's new police commissioner, winning a position that one analyst called "the hardest job" of any new chief in the U.S.
---
By Tim Prudente
The Baltimore Sun
BALTIMORE — Darryl De Sousa easily was confirmed as Baltimore's new police commissioner Monday, officially winning a position that one analyst called "the hardest job" of any new chief in the country.
The Baltimore City Council voted 14-1, without debate, to confirm him. The 53-year-old career officer has enjoyed widespread support and breezed through the confirmation process since Mayor Catherine E. Pugh nominated him last month.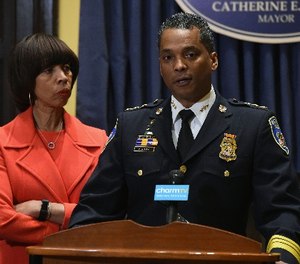 Councilman Ryan Dorsey, who represents Northeast Baltimore, cast the lone dissenting vote. He said afterward that De Sousa brings "more of the same."
"We need an entirely new vision in policing," Dorsey said. "That's not what I see here."
De Sousa will be sworn in Wednesday, Pugh said. The mayor fired Commissioner Kevin Davis last month, saying she had grown "impatient" with Baltimore's persistent street violence. The city has suffered more than 300 homicides for each of the past three years.
At lunch before the vote, Pugh told members of the City Council why she picked De Sousa. The mayor grew impressed by him during her morning meetings with police commanders.
"Watching the interactions and the enthusiasm and the strategic way he approaches violence in the city, I know we have chosen the right person," she said.
As the 40th police commissioner in Baltimore history, De Sousa inherits the department at a critical juncture. The force — America's eighth largest — has been battered by scandal, declining morale and high crime. The department also is under a federal consent decree that requires sweeping changes to end well-documented patterns of discriminatory policing.
"He's got the hardest job of any new commissioner in America," said Peter Moskos, a former Baltimore police officer who is now a professor at the John Jay College of Criminal Justice in New York. "The combination of consent monitors, violent crimes and corruption scandal is quite a trifecta."
De Sousa takes over a department that Pugh and police commanders have said is short hundreds of officers, needs to improve its hiring practices and move large numbers of new recruits through the academy each year to outpace attrition.
His appointment follows the federal racketeering convictions this month of two former members of the department's corrupt Gun Trace Task Force. Six other members had already pleaded guilty. The scandal loomed large during discussions of De Sousa's appointment.
Moskos said De Sousa must root out further corruption while encouraging rigorous policing — a tricky balancing act. Officers can't be timid, he said.
"If he can change the culture to not tolerate corrupt units, that's an accomplishment. But it's not enough," Moskos said. "He has to say, 'We're getting back to police work.' … That is a heavy lift."
De Sousa did not attend Monday's meeting, but thanked the mayor and City Council on Twitter after the vote.
"I will not let you down," he wrote. "We have work to do."
De Sousa stands to earn $210,000 a year. The city's spending panel is scheduled to vote on his four-year contract Wednesday. Davis earned $200,000 a year.
De Sousa has already brought change.
Since being tapped for the job, he has appointed an entirely new command staff and announced plans to send 80 detectives back to the streets. He is also considering reintroducing plainclothes units for drug and gun enforcement — moves that would reverse changes introduced by Davis.
De Sousa also said he would form a specialized unit to investigate additional allegations against officers that emerged during the corruption trial.
Morgan State University Professor Lawrence Brown said the focus should not have been on who the next commissioner would be, but on what needs to be done to rebuild the department.
"You can't answer the question of who we need if we don't know what kind of system we need," he said. "He may be good for the old system, but what if we need a new system?"
Pugh's pick of De Sousa drew praise from rank-and-file officers and neighborhood leaders. De Sousa spent 30 years in the Baltimore Police Department, climbing the ranks from patrol officer. He's widely regarded as a cop's cop, and he last served as a deputy commissioner.
"People love him," Lt. Gene Ryan, president of the police union. "He's what I call 'homegrown.' He's held every position from the bottom to the top." His nomination last month immediately boosted morale, Ryan said.
Rita Crews, president of the Belair-Edison Community Association, has known De Sousa from his days as a commander in the Northeast District seven years ago. She said he was a familiar and reassuring presence at Northeast Middle School, where she taught English before retiring.
"We view him as family," said Crews, 65.
Born in Jamaica, Queens, to a mother who worked as a pediatric nurse and a father who worked in advertising, De Sousa moved to Baltimore in 1983 to attend Morgan State University. He joined the department in 1988.
De Sousa was involved in two deadly shootings during his career as a Baltimore police officer, both in 1995. He was cleared of wrongdoing in both.
In February 1995, police shot and killed Garrett "Scooter" Jackson, 26, a patron of a soup kitchen run by Brendan Walsh and his wife.
De Sousa said in an interview with The Baltimore Sun last month that he was on patrol when he approached a man "acting in a suspicious manner" in West Baltimore. He said the man — Jackson — "turned around, lifted his coat, withdrew a semi-automatic pistol, [and] pointed that pistol at me." De Sousa fired.
Jackson's brother sued De Sousa for $500,000. He alleged De Sousa shot his brother as many as 13 times. The case went to trial and a jury found that De Sousa acted reasonably and cleared him of wrongdoing.
De Sousa has said the shootings shaped him as a police officer. Today, he speaks of de-escalation and the sanctity of life.
Walsh, however, remains dissatisfied with explanations by police. The shooting wasn't discussed by council members during a committee hearing last week on De Sousa's nomination.
"I'm just surprised that nobody asked any of these questions," Walsh said. "There was not really due diligence."
Moments before Monday night's council vote, Pugh said on Twitter that she had reviewed all of the internal files on De Sousa and "can confirm that any allegation involving misconduct of any kind … is unsubstantiated."
Baltimore Sun reporter Ian Duncan contributed to this article.
©2018 The Baltimore Sun
McClatchy-Tribune News Service