9 things a police spouse can expect when vacationing with their cop
"Let's make it a family trip," they said... "It'll be fun!" they said...
---
By Melissa Littles, Police1 Contributor
There is one certainty in being the spouse of an officer; if you go on vacation with your spouse, you're taking a cop with you. You can take the LEO out of the uniform, but removing the LEO mentality is a whole other ball game. I personally enjoy taking a cop with me on vacation, but the experience is not without some humorous things that'll leave me shaking my head with a smile.
Here are nine things you can expect when vacationing with a cop: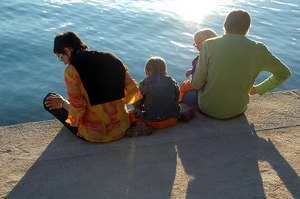 1. The hotel must have a room safe.
And, you must confirm it's actually bolted to something. Forget about amenities - no safe, no deal.
2. Packing involves firearms.
Don't forget the extra ammunition.Checking the crime rate of your destination is mandatory, too.
3. If flying, be prepared for your spouse to be annoyed by TSA.
Especially by their search capabilities, "I could have a damn bomb in my bag. My granny searches better than that."
4. While mid-conversation waiting for your flight, you will realize your LEO hasn't heard a single word.
They are too busy scanning the airport for terrorists.
5. If driving, take Zofran.
Nothing can prepare a police officer's spouse for a 12-hour road trip with a "trained professional driver." You will wear out your invisible breaks and "oh sh*t" handle by hour two.
6. The phantom radio.
As the kids are noisy and the movie playing in the backseat is blaring, try not to laugh when you notice your LEO's head tilt towards their shoulder to hear a radio that is not there. This unconscious habit will diminish as they settle into off-duty mode.
7. Your LEO will still back into the parking spot.
Every. Single. Place. You. Go.
8. You will still wait for a table facing the door.
Don't even assume otherwise.
9. You will be reminded to put everything of value in the safe before heading to the beach.
Your LEO can and will tell you how many times they've been on calls to hotels about the staff.
All of this will sound familiar to many, but only if you actually get your LEO out of town for vacation. In all seriousness, it does take a day or so for my LEO to start to unwind and allow himself to relax and honestly, I'm perfectly fine with that. I may laugh a little at his perpetual LEO mentality quirks, but it is comforting that he's always looking out for his family and others. He would jump in to help anyone in need, even when he isn't obligated to. Can't really complain about that.
To the officers out there, if you get the chance to get away, try to let go, relax and enjoy. Leave the politics at the station, leave the stress in your unit. Regroup, reconnect and remember the sheepdogs are at your destination and will handle business as usual. To the spouses out there, be patient and supportive and enjoy the quirks. It will help your LEO relax more if you're not pointing out "you're doing it again!" Give them a little time to jump on the fun train and it will be a successful moment of chaotic bliss for all.