Pence: We will continue to give LE the tools, respect they deserve
Vice President Mike Pence affirmed the administration's support for law enforcement during an NRA convention
---
By Police1 Staff
DALLAS — Vice President Mike Pence affirmed the administration's support for law enforcement during an NRA convention.
On Friday, Pence said that he and President Donald Trump will continue to support law enforcement and give "all the heroes of law enforcement the training, tools, and the respect that they deserve." Pence and Trump spoke during an annual NRA convention in Dallas.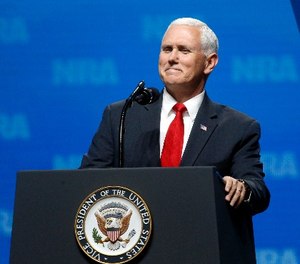 "As we all know, the men and women of law enforcement risk their lives every day to serve and protect our families, our neighbors, and our communities," Pence said. "That's why under President Donald Trump's leadership, we've made new resources available to law enforcement at every level."
Pence discussed the recent violence against LEOs, including the 2016 ambush in Dallas that killed five officers, and more recently, the death of Dallas Officer Rogelio Santander, who died after being shot at a Home Depot last week.
"They are heroes, and they are on our hearts and in our prayers," Pence said.
Pence also referenced recent mass shootings in Las Vegas and Parkland. He said the administration is taking concrete steps to address the recent shootings.
The vice president pointed to initiatives to boost school safety and a new law to incentivize federal agencies and states to share more records with the National Instant Criminal Background Check System. 
"With the President's leadership, we've joined the NRA to call on states to give families and law enforcement the tools they need to stop mass shootings before they happen," Pence said. "We know we can protect public safety and due process at the same time. 
Trump also focused on the bill he signed that included $2 million in school safety funding and more improvements in reporting to the background check system. He also referenced the Parkland shooter and the "red flags" that were present before the attack occurred.
He added that his administration was "working to improve early warning systems."
"This is real leadership, men and women," Pence said. "And these are real results that will give law enforcement, families, and our schools new resources and tools to protect our students and ensure public safety."