Video released of Capitol shooting, suspect ID'ed
Miriam Carey of Conn. had no history of violence, but had post-postpartum depression after giving birth
---
By Eric Tucker
Associated Press
WASHINGTON — A Connecticut woman who was shot to death by police after a car chase that began when she tried to breach a barrier at the White House suffered from post-partum depression, her mother said.
The harrowing chase Thursday unfolded between two national landmarks, briefly shuttered the chambers where federal lawmakers were debating how to end a government shutdown and stirred fresh panic in a city where a gunman two weeks ago killed 12 people.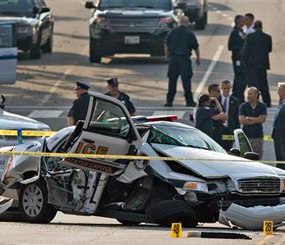 Two law enforcement officials identified the driver as 34-year-old Miriam Carey, of Stamford, Conn. She was traveling with a 1-year-old girl who avoided serious injury and was taken into protective custody. The officials spoke on condition of anonymity because they were not authorized to discuss an ongoing investigation.
Carey's mother, Idella Carey, told ABC News on Thursday night that her daughter began suffering from post-partum depression after giving birth to her daughter, Erica, last August.
"A few months later, she got sick," she said. "She was depressed. ... She was hospitalized."
Idella Carey said her daughter had "no history of violence," and she didn't know why she was in Washington on Thursday. She said she thought Carey was taking Erica to a doctor's appointment in Connecticut.
Connecticut records show Carey had been a licensed dental hygienist since 2009. Records show the license expired on Thursday.
Dr. Brian Evans, a periodontist in Hamden, Conn., said Carey worked as a hygienist in his office for about two years before she was fired a year ago. He said she had been a good employee, and he would not go into detail about the reasons surrounding her departure.
"Sometimes it just doesn't work out. There was nothing unusual about her leaving our office," he said.
He said Carey had been away from the job for a period after falling down a staircase and suffering a head injury, and she learned she was pregnant during the time she was hospitalized. He said it was a few weeks after she returned to the office that she was fired.
"We're shocked to know this happened and we feel saddened for her family and all those involved," he said.
Police said there appeared to be no direct link to terrorism, and there was no indication the woman was even armed. Capitol Police Chief Kim Dine, whose officers have been working without pay as a result of the shutdown, called it an "isolated, singular matter."
Still, tourists, congressional staff and even some senators watched anxiously as a caravan of law enforcement vehicles chased a black Infiniti with Connecticut license plates down Constitution Avenue outside the Capitol and as officers with high-powered firearms canvassed the area. The House and Senate both abruptly suspended business, a lawmaker's speech cut off in mid-sentence, as the Capitol Police broadcast a message over its emergency radio system telling people to stay in place and move away from the windows.
The woman's car at one point had been surrounded by police cars and she managed to escape, careening around a traffic circle and past the north side of the Capitol. Video shot by a TV cameraman showed police pointing firearms at her car before she rammed a Secret Service vehicle and continued driving. Metropolitan Police Chief Cathy Lanier said police shot and killed her a block northeast of the historic building.
In Stamford, the FBI served a search warrant in connection with the investigation and police cordoned off a condominium building and the surrounding neighborhood in the shoreline city.
Erin Jackson, 31, lived next door to Carey and said she doted on her young daughter, often taking the girl outside for picnics.
"She was pleasant. She was very happy with her daughter, very proud of her daughter," she said. "I just never would have anticipated this in a million years."
Jackson said Carey was upset earlier this summer when the tires were stolen off her car, but she said her neighbor seemed content. She said she never heard her say anything political.
Carey had been sued by her condominium association for failure to pay fees, court records show. A lawsuit settled in February alleged that she owed the association $1,759 in addition to collection costs, and indicates that she took out a mortgage on her condo in the amount of $237,616.
The chain of events in Washington began when the woman sped onto a driveway leading to the White House, over a set of barricades. When the driver couldn't get through a second barrier, she spun the car in the opposite direction, flipping a Secret Service officer over the hood of the car as she sped away, said B.J. Campbell, a tourist from Portland, Ore.
"This wasn't no accident. She was not a lost tourist," Campbell said later near the scene that had been blocked off with police tape.
Then the chase began.
"The car was trying to get away. But it was going over the median and over the curb," said Matthew Coursen, who was watching from a cab window when the Infiniti sped by him. "The car got boxed in and that's when I saw an officer of some kind draw his weapon and fire shots into the car."
One Secret Service member and a 23-year veteran of the Capitol Police were injured. Officials said they are in good condition and expected to recover.
Rep. Michael McCaul, R-Texas, who said he was briefed by the Homeland Security Department, said he did not think the woman was armed. "There was no return fire," he said.
The shooting comes two weeks after a mentally disturbed employee terrorized the Navy Yard with a shotgun, leaving 13 people dead including the gunman.
Before the disruption, lawmakers had been trying to find common ground to end a government shutdown. The House had just finished approving legislation aimed at partly lifting the government shutdown by paying National Guard and Reserve members.
Capitol Police on the plaza around the Capitol said they were working without pay as the result of the shutdown. A spokesman for House Majority Leader Eric Cantor said a bill to pay them was under consideration.
Copyright 2013 Associated Press