2 troubling trends that affected officer safety in 2014
As anti-cop zealots called for attacks on police officers on the Internet, on the streets, and even in some political quarters, there were too many tragic incidents in which officers were killed in ambush attacks
---
Looking back at 2014, we see clearly two terribly troubling trends. The first is the increasing anti-cop fervor on the Internet, on the streets, in semi-secret meetings among anti-government groups, and at the podiums of many of our elected officials. 
The second is the rise in fatal ambush attacks on our police officers — at the time of this writing, 15 police officers have been killed in the line of duty in ambush attacks in 2014. This is the the fifth straight year that ambush attacks were the number one cause of felonious fatalities for police officers.
These two trends are — in my opinion and in the opinions of thousands of police officers — inextricability linked. This connection requires our immediate attention.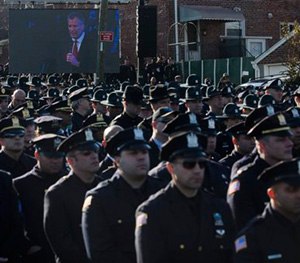 Silence and Rhetoric Fomenting Violence
Since August, protesters across the country have been calling for officers to be killed. Just days before two NYPD heroes were gunned down in Brooklyn, marchers in New York City were caught on cell phone video chanting "What do we want? Dead cops! When do we want it? Now!" 
Cops protecting protesters' First Amendment rights know that those chants had been happening for months, but have only just recently reported in the mainstream media.
By not using their pulpits to make strong statements of disapproval for such venomous messaging, the silence of so-called leaders is tantamount to tacit approval. Worse, elected officials and community organizers have not only failed to tamp down tensions, many have openly fanned the flames of anti-cop sentiment with irresponsible — and politically self-serving and expedient — comments.
NYPD Patrolmen's Benevolent Association president Pat Lynch recently said, "Those that incited violence on the street under the guise of protest, that tried to tear down what New York City police officers did every day — we tried to warn it must not go on, it cannot be tolerated. That blood on the hands starts on the steps of City Hall, in the office of the mayor."
Former New York City Mayor Rudy Giuliani added, "We've had four months of propaganda starting with the president that everybody should hate the police. Those protests are being embraced, the protests are being encouraged. The protests — even the ones that don't lead to violence, a lot of them lead to violence — all lead to a conclusion: the police are bad, the police are racist. That is completely wrong."
John Thompson, Interim Executive Director of the National Sheriffs' Association, also observed that anti-police rhetoric "has been fueled in part by some irresponsible politicians and members of the news media who have made statements condemning the entire law enforcement profession, and who have contributed to an unjustified hatred of the dedicated police officers and sheriffs' deputies all over this country. These irresponsible statements and the broad brush paintings of the entire law enforcement profession have also filtered down to mentally ill individuals in our society who believe they are the next avenger of 'justice.' It's time for all of this to stop!"
Frothing at the Keyboard: The Role of the Internet
For many years, the Internet has been a bastion for anti-police sentiment, but in 2014 things got far uglier than we'd ever seen before. Just hours before ambushing and killing officers Rafael Ramos and Wenjian Liu, a murderer posted on Instagram: "I'm putting wings on pigs today...they take one of ours, let's take two of theirs." This has been widely reported in recent days. 
Recall also that the assailants who shot LVPD Officers Igor Soldo in the back of the head and Officer Alyn Beck in the neck saw police as oppressors, and posted veiled threats on law enforcement on Facebook just days before their attack.  
One post warned of "the dawn of a new day... May all of our coming sacrifices be worth it" and another ranted that the murderous pair were preparing for 'war.' 
"We face an enemy that is not only well funded, but who believe they fight for freedom and justice. Those of us who know the truth and dare speak it, know that the enemy we face are indeed our brothers," it read.
About a month before the murders in that Las Vegas pizzeria, one of the attackers declared online, "Maybe if we can kill all these despotic goons they will turn on their masters and once again be public servants and we can end this madness."
Just days ago, a man set his house on fire and lay in wait to ambush responding officers. The man fatally shot Leon County Sheriff's Deputy Christopher Smith and wounded another deputy. Although no online comments have yet surfaced, the 53-year-old man identified himself as a Sovereign Citizen, people routinely meet in person to speak among themselves about violence against officers and other government officials — the man had previously threatened to kill police.
Just the other day, a Pennsylvania man was jailed on charges he posted Facebook comments encouraging people to kill police including, "The police brought this on themselves! I say kill them all! Enough is enough."
Reversing These Ugly Trends in 2015
I believe that the vast majority of American citizens admire and appreciate police officers. They are, however, a silent majority. 
Most law-abiding citizens proceed with their daily lives without thinking to commend a cop for a job well done. Most people today are just too busy to act on that and offer up a word or two of appreciation. Parents are shuttling the kids from school to soccer practice. Laborers are working multiple jobs to make ends meet. Americans are typically so caught up in the day-to-day challenges of modern life, they all too frequently fail to pause and thank the coppers officers who put their lives on the line every day to ensure their safety and security. 
This silent majority can make a big difference in 2015. We've already seen some pretty substantial pro-cop rallies in places like Cleveland, New York City, and Seattle, Salt Lake City. Citizens in small towns everywhere are doing the same thing. 
A couple of pro-police Facebook pages have popped up online, and #procop is gaining traction on Twitter. There are also a number of elected officials, mainstream members of the media, and even Hollywood celebrities who are decidedly pro-cop. Rocker Jon Bon Jovi wore an NYPD T-shirt during a concert in New Jersey following the ambush attack in New York, for example. 
I hope that high-visibility people with public influence look back on the tragedies of 2014 and resolve in 2015 to out-shout the anti-police minority that has seized the spotlight. 
In 2015, we will investigate further these troubling trends. For now, I implore all my law enforcement brothers and sisters to redouble your efforts to protect yourself from sudden ambush attacks.