Cops cleared in fatal shooting of Alton Sterling
AG Jeff Landry's announcement comes nearly 11 months after the Justice Department ruled out federal criminal charges in Alton Sterling's 2016 death
---
By Michael Kunzelman and Anthony Izaguirre
Associated Press
BATON ROUGE, La. — Louisiana's attorney general ruled out criminal charges Tuesday against two white Baton Rouge police officers in the fatal shooting of a black man during a struggle outside a convenience store nearly two years after his death caused widespread protests.
Attorney General Jeff Landry's decision came nearly 11 months after the Justice Department ruled out federal criminal charges in Alton Sterling's July 2016 death.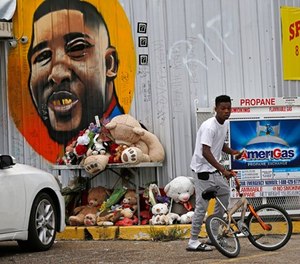 Officer Blane Salamoni shot and killed Sterling during a struggle outside a convenience store where the 37-year-old black man was selling homemade CDs. Officer Howie Lake II helped wrestle Sterling to the ground, but Lake didn't fire his gun. Two cellphone videos of the shooting quickly spread on social media, leading to large protests.
Landry made the announcement of no charges against the officers at a news conference after meeting with family members of Sterling.
Veda Washington-Abusaleh, Sterling's aunt, was in tears after meeting with Landry.
"They said they didn't find anything," she said. "They said it was justifiable, what happened to Alton was justifiable."
Quinyetta McMillon, the mother of one of Sterling's children, Cameron, said the officers killed Sterling "in cold blood."
"They took a human away. They took a father away," she said.
Landry said his office reviewed all of the evidence compiled by the Justice Department, including opinions issued by independent experts, and also conducted its own interviews of eyewitnesses.
"I know the Sterling family is hurting," Landry told reporters. "I know that they may not agree with the decision."
Citing a toxicology report, Landry also said Sterling had illegal drugs in his system at the time of the confrontation. It was "reasonable" to conclude Sterling was under the influence of drugs during the struggle with the officers "and that contributed to his non-compliance," Landry said.
Landry did not take any questions from reporters.
State Rep. C. Denise Marcelle, a Baton Rouge Democrat who has been involved with the case, said Landry's decision means the family will not get any justice.
"It's a sad day for Baton Rouge," she said.
A lawyer for two of Sterling's five children slammed the report as biased. L. Chris Stewart said investigators did not follow up with witnesses and relied heavily on the two federal investigators who already looked into the case. He also criticized the decision to put Sterling's criminal history into the report, which he said had nothing to do with the case.
"They kept making Alton look like a criminal," he said.
The officers' body cameras and a store surveillance camera also recorded the encounter. Those videos have not been released but Baton Rouge Police Chief Murphy Paul said he intends to release both after he concludes the disciplinary process for the two white officers involved.
Paul said he hopes to complete the disciplinary process by Friday.
An attorney for one of the officers said he expects the police chief to fire his client. Officer Salamoni's lawyer, John McLindon, said it's "grossly unfair" that Chief Paul plans to hold a disciplinary hearing less than a week after the end of a criminal investigation.
Federal authorities opened a civil rights investigation immediately after the shooting and released their findings in May 2017. They said Salamoni yelled that Sterling was reaching for a gun in his pocket before shooting him three times, and then fired three more shots into Sterling's back when he began to sit up and move.
The officers recovered a loaded revolver from Sterling's pocket. As a convicted felon, Sterling could not legally carry a gun. Sterling had pleaded guilty in 2011 to being a felon in possession of a firearm and illegally carrying a weapon and was arrested in May 2009 after an officer confronted him outside another store where he was selling CDs, court records show.
Federal authorities concluded there wasn't enough evidence to prove Salamoni or Lake willfully deprived Sterling of his civil rights, or that the officers' use of force was objectively unreasonable.
The officers encountered Sterling after responding to a report of a man with a gun outside the Triple S Food Mart. The officers told Sterling to put his hands on the hood of a car and struggled with him when he didn't comply, the Justice Department said. Lake shocked Sterling with a stun gun before the officers wrestled him to the ground, according to federal investigators.
Attorneys for Sterling's relatives have said federal authorities told them Salamoni pointed a gun at Sterling's head and threatened to kill him before the struggle began. In a summary of its findings, the Justice Department said Salamoni pointed his gun at Sterling's head but didn't mention any verbal threats by the officer.
Salamoni and Lake have remained on paid administrative leave since the July 5, 2016, shooting.
The shooting came amid increased scrutiny of fatal encounters between police and black men. The next day Philando Castile was shot and killed in Minnesota by police officer and the aftermath was streamed on Facebook by his girlfriend. The same week, five police officers were killed in Dallas during a protest against police shootings.
Racial tensions were still simmering in Louisiana's capital when a 29-year-old black military veteran shot and killed three Baton Rouge law enforcement officers on July 17, 2016.
The local district attorney recused himself from any state criminal investigation into Sterling's death, citing his professional relationship with Salamoni's parents, who have served as police officers in Baton Rouge. That left Landry's office to review evidence and decide whether any state charges were warranted.
In June 2017, lawyers for Sterling's five children filed a wrongful death lawsuit against the city of Baton Rouge, its police department and former police chief, and the two officers involved. Their suit alleges the shooting fit a pattern of racist behavior and excessive force by the Baton Rouge police. It also claims poor training and inadequate police procedures led to Sterling's death.