Police: Fla. officer meant to use TASER, not gun, in shooting incident
Police say an initial review suggests the officer meant to draw their TASER in a shooting that left a man paralyzed
---
By Chris Perkins
South Florida Sun Sentinel
HOLLYWOOD, Fla. — A police officer meant to grab his Taser but mistakenly grabbed his gun and shot a man in the back while trying to subdue him, Hollywood, Florida, police said.
Michael Ortiz, 42, is now paralyzed and uses a wheelchair because of the July 3, 2021, altercation.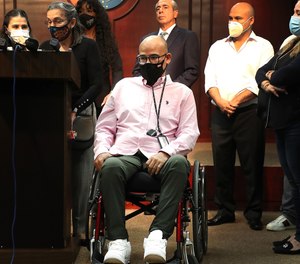 The police department's response came after high-profile civil rights attorney Ben Crump held a news conference Monday saying the family demanded surveillance video of the shooting from the police department as part of a public records request.
In a statement issued late Tuesday, Hollywood police said, "The Department recognizes this is an unfortunate incident and is doing what it can to make sure this doesn't happen again. We empathize with Mr. Ortiz and his family and know they have many questions about that evening. Our hope is that once the investigation is complete, we will be able to meet with them and provide any additional information they are seeking."
Ortiz called Hollywood Fire Rescue to 5200 Hollywood Blvd on July 3. Police say he reported "chest pains" and "ingestion of narcotics" and was making "delusional and suicidal statements."
No one answered the door where Fire Rescue arrived, so they called police for assistance. Before they arrived, Ortiz left his sixth-floor apartment naked and combative and threatening to jump from the balcony, according to the Hollywood Police Department statement.
[RELATED: 3 recommendations to mitigate TASER/firearm 'capture' errors]
But on Monday, Crump said Ortiz had called 911 because he'd lost his dog and was having a "mental health crisis." His family had told him to take a shower and calm down, and he was coming out of the shower when the rescue department arrived, and that's why he was naked.
Paramedics were trying to get Ortiz under control when police arrived. An officer used his Taser and Ortiz was placed in restraints.
But as the emergency workers tried to get Ortiz into an elevator, he continued resisting, according to the police statement. An officer then grabbed his gun, thinking it was his Taser, and shot Ortiz in the back.
Family members on Monday said they want answers.
"At some point he was Tased twice, if not more," Crump said.
"Why you have the need to shoot me, why there were six grown people and they can't put me down?" Ortiz asked during the news conference. "Cuff me and that's it. But then they had to use violence?"
Hollywood police said they've preserved all evidence after receiving a request on July 12 from the law firm previously representing Ortiz.
The officer has been placed on administrative duties and the Florida Department of Law Enforcement is investigating the shooting. Hollywood Police Department's Internal Affairs will conduct a separate investigation.
©2022 South Florida Sun Sentinel. Visit at sun-sentinel.com. Distributed by Tribune Content Agency, LLC.
McClatchy-Tribune News Service